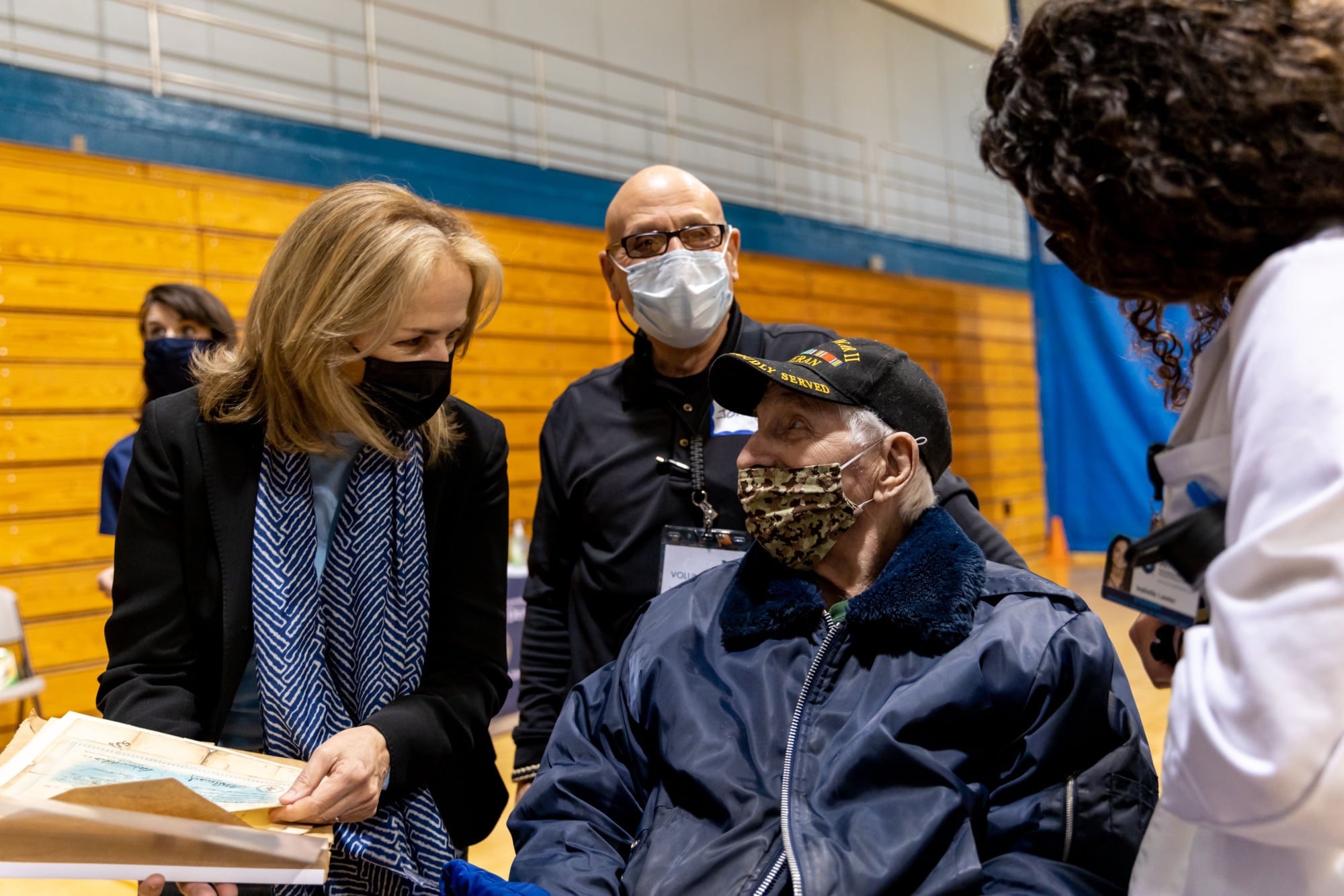 The men and women who don our country's uniform deserve our full support — during their service and beyond.
Throughout her time in Congress, Rep. Dean has worked on dozens of bipartisan veterans' bills — getting results for veterans on healthcare, housing insecurity, and key benefits across the board. This includes passing legislation to correct a decades-long injustice to Blue Water Navy Vietnam veterans exposed to Agent Orange and getting them the benefits they deserved.
Rep. Dean has also cosponsored legislation to address the challenges of homelessness and suicide among our veterans — as well as to help returning servicemembers transition from the battlefield to the classroom and continue to be leaders in their community.
In addition, we have launched the Women Veterans Task Force to make sure that more than two million women veterans have access to healthcare, benefits, and resources they have earned.
And with more women, LGBTQ, minority, and Native American veterans than ever before, we are legislating to ensure that the Department of Veterans Affairs is ready to care for our increasingly diverse community of veterans.
Fair Debt Collection Practices for Servicemembers Act
Rep. Dean has introduced legislation to address abusive debt collection practices affecting members of the military. Our servicemen and servicewomen make extraordinary sacrifices on our behalf. The last thing they need is harassment from manipulative debt collectors who take advantage of their service. This bill Prohibits a debt collector from conveying any threats to a servicemember or commanding officer including to have the servicemember's rank reduced or to have the servicemember's security clearance revoked.
PFAS Exposure
Perfluoroalkyl or polyfluoroalkyl (PFAS) chemicals are linked to a range of health consequences, including certain types of cancers and impaired immune system performance. The chemicals have long been used in a range of consumer products, and the military continues to use aqueous film-forming foam (AFFF) in firefighting training exercises. Across the country, these chemicals flow from military bases into community water supplies, exposing tens of millions of people to health risks.
In Pennsylvania's Fourth Congressional District — Montgomery and Berks Counties — the epicenter of the PFAS problem is Naval Air Station Joint Reserve Base Willow Grove, where unchecked contamination continues to harm surrounding municipalities. In May, Rep. Dean toured the base with members of the Congressional PFAS Task Force and witnessed this ongoing contamination.
From day one of her term, Rep. Dean has worked closely with other Members of Congress to pressure the Environmental Protection Agency (EPA) to establish an enforceable Maximum Contaminant Level for PFAS — an essential element in any effort to protect our servicemembers, veterans, and communities.
Along with Rep. Andy Kim (NJ-03) and Rep. Xochitl Torres Small, (NM-02), Rep. Dean has also introduced H.R. 4295, the Protect Our Military Children Act, a bill that will require the Department of Defense to carry out blood testing services for children living at military facilities and track levels of PFAS chemicals.
More on Veterans
April
2021
March
2021
October
2020
July
2020
March
2020
February
2020
January
2020
November
2019