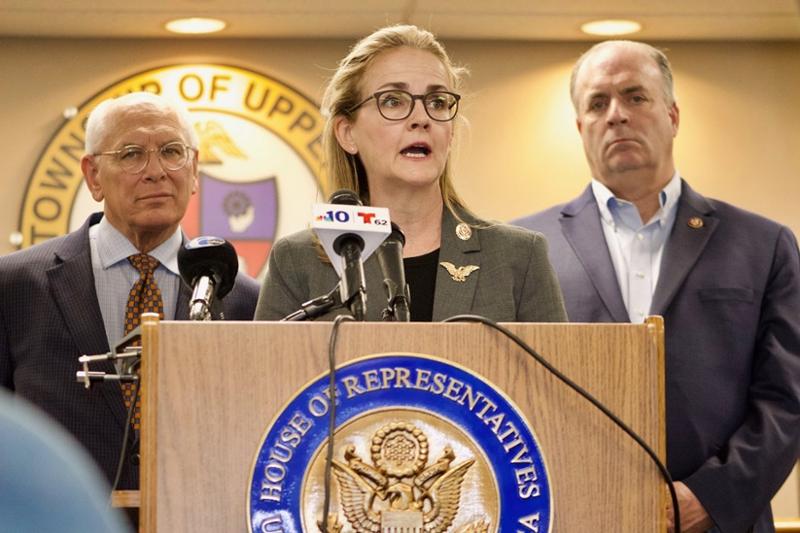 WASHINGTON – Last week, Rep. Madeleine Dean introduced H.R. 2600, the Toxic PFAS Control Act, to list and regulate per- and polyfluoroalkyl substances (PFAS) under the Toxic Substances Control Act (TSCA). Rep. Dean's legislation phases out PFAS by banning the manufacturing and processing of these chemicals, while also requiring the Environmental Protection Agency (EPA) to regulate their disposal.
"Scientists have warned us about the risks of PFAS for decades, and the dangers to human health are well-established. It's time to stand up for our children and our communities by banning these chemicals," said Rep. Dean.
On Wednesday, May 15, the Subcommittee on the Environment and Climate Change will hold a hearing on PFAS legislation at 10:30 am in Room 2322 of the Rayburn House Office Building in Washington. The hearing, entitled "Protecting Americans at Risk of PFAS Contamination & Exposure," will be livestreamed here.
PFAS chemicals are linked to a range of health consequences, including certain types of cancers and impaired immune system performance. The chemicals have long been used in a range of consumer products, and some remain in use on military installations.
In Pennsylvania's Fourth Congressional District – Montgomery and Berks Counties – the epicenter of the PFAS problem is Naval Air Station Joint Reserve Base Willow Grove, where PFAS-contaminated water routinely flows off the base and into groundwater used by surrounding municipalities. On Monday, Rep. Dean toured the base with members of the Congressional PFAS Task Force and witnessed this ongoing contamination. The delegation also visited Horsham's water treatment facility.
"PFAS represents a complex challenge," said Rep. Dean. "Part of the solution is to ensure that EPA establishes a Maximum Contaminant Level. Part of the solution is an aggressive, science-based cleanup effort at affected sites across the country. And part of the solution – which this new legislation addresses – is to ban PFAS so we do not continue to face this problem."
Rep. Dean discussed the new legislation on Monday at a PFAS roundtable at the Upper Dublin Township Building. The roundtable featured Rep. Dan Kildee (MI-05), Co-Chair of
the Congressional PFAS Task Force, and Rep. Paul Tonko (NY-20), Chairman of the Subcommittee on the Environment and Climate Change. Participants also included State
Rep. Ben Sanchez (PA-153) and representatives from the Pennsylvania Department of Environmental Protection, Pennsylvania Attorney General's office, EPA, Penn
Environment, Buxmont Coalition for Safer Water, Langan, and other organizations. Representatives from the offices of State Reps. Todd Stephens (PA-151) and Tom Murt (PA-
152), State Sens. Maria Collett (PA-12) and Art Haywood (PA-04), and U.S. Sen. Bob Casey (PA) also attended the event.
Participants offered opening statements and then joined a dialogue that covered legislative strategies for addressing PFAS, remediation science, and the impact of PFAS chemicals on local communities. Rep. Dean's office plans to compile participants' commentary for future release.
###
Contact: Matt Bieber, 202-569-2879