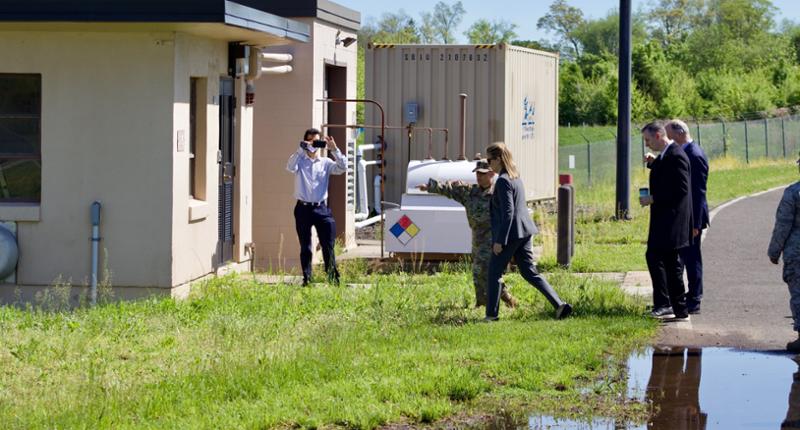 WASHINGTON, DC – Today, Congresswoman Madeleine Dean (PA-04), Congressman Andy Kim (NJ-03), and Congresswoman Xochitl Torres Small (NM-02) introduced the Protect Our Military Children Act, H.R. 4295, a bill that will require the Department of Defense (DoD) to carry out testing of children living at military facilities to track levels of perfluoroalkyl or polyfluoroalkyl substances, known as PFAS.
PFAS chemicals are linked to a range of health consequences, including certain types of cancers and impaired immune system performance. The chemicals have long been used in a range of consumer products, and the military continues to use aqueous film-forming foam (AFFF) in firefighting training exercises.
The Protect Our Military Children Act would require DoD to put in place a pilot program to:
Provide blood testing services for children that currently live or have lived on military bases in the last ten years that have had exposure to PFAS.
Carry out an outreach program at military installations eligible for the program.
Provide Congress with a summary of the results of the program, including the scope of child exposure on military installations.
"PFAS contamination touches nearly everyone in America, and none more than the children of servicemembers living on or near military bases," said Rep. Dean. "We know these chemicals are dangerous, and we must do everything we can to mitigate the health risks young people face. Our servicemembers enlist to protect us – and we must do the same for them and their children."
"The health risks of PFAS impact everyone in our community, but we need to look out for our most vulnerable; children who live at military facilities like Joint Base McGuire-Dix-Lakehurst," said Rep. Kim. "In order to bring real solutions to these PFAS issues, we need to determine the true scope of the problem. These testing programs will do just that and work to keep our children and communities safe."
"The Department of Defense has acknowledged that over 400 military bases could have water systems contaminated with PFAS," said Rep. Torres Small. We already know that Holloman Air Force Base and Cannon Air Force Base, which are in and around my district, have ground water that is contaminated by PFAS. Military families are asked to sacrifice so much, the least we can do is provide resources to address potential health hazards, such as voluntary blood testing for children at risk of PFAS exposure."
"NMFA supports H.R. 4295 directing DoD to assess military kids' exposure to PFAS substances via a pilot program," said Karen Ruedisueli, Deputy Director, Government Relations for the National Military Family Association. "Recent revelations about toxic exposures in military housing and on military installations demand a public health response. This legislation is an important first step to determine the extent to which military children have been exposed to PFAS contamination on military installations. We appreciate the work of Congresswoman Dean, Congressman Kim, and Congresswoman Torres Small on this issue and their support of military families."
Rep. Madeleine Dean is a mother, grandmother, attorney, professor, former four-term member of the Pennsylvania House of Representatives, and U.S. Representative for the Fourth District of Pennsylvania. She is a member of the bipartisan PFAS Task Force.



CONTACT: Matt Bieber, 202-251-5643
###