Each spring, the United States House of Representatives sponsors a nation-wide Congressional Art Competition for high school students. In honor of the students from Pennsylvania's Fourth District, Congresswoman Madeleine Dean (PA-04) hosted a reception at Cheltenham Center for the Arts on Monday, May 9. All artwork was displayed in the gallery for the students and their families to enjoy.
This year's winner is Wenlan Jin from The Hill School for her work, "Pork Belly."

The Runners-Up are:
Grace Capecci for "Shadow Walk"
Jessie Xin for "Paper Wishes"
Yina Yao for "Traffic Light"
Wenlan Jin's artwork will be displayed in the U.S. Capitol for one year. The artwork from the runners-up will be displayed in Congresswoman Madeleine Dean's district offices.
"The Congressional Art Competition is an opportunity to highlight the remarkable talent and dedication of our students," Rep. Dean said. "I was delighted to meet with all the artists and their families, to get a deeper sense of their impressive work, and to celebrate their accomplishments. The arts are vital to education, and it is important to lift them up in our schools and communities."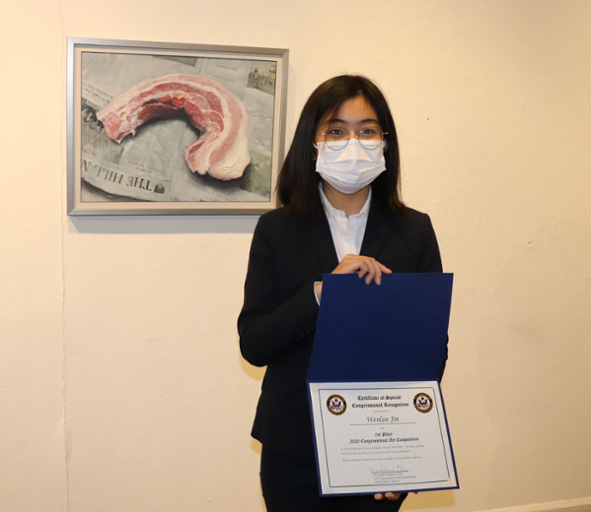 "During the creation of 'Pork Belly,' I experimented with new techniques of painting and worked with subjects that I have never drawn before," Wenlan Jin said. "I was glad that the piece turned out really well, and I will treasure this opportunity of displaying my artwork in the Capitol."
The Congressional Art Competition was judged by Margaret Griffen, Executive Director of the Cheltenham Center for the Arts; Lauren McCardle, Executive Director, Ursinus College's Philip and Muriel Berman Museum Of Art; Professor Yvonne Love, Program Chair and an Associate Professor of Art at Penn State; and Jackie Joyce, local artist and Abington High School alumna.
To learn more about the Congressional Art Competition and to view the 2022 finalists' artwork, please visit Congresswoman Dean's website.
Rep. Madeleine Dean is a mother, grandmother, attorney, professor, former four-term member of the Pennsylvania House of Representatives, and U.S. Representative for the Fourth District of Pennsylvania.
###