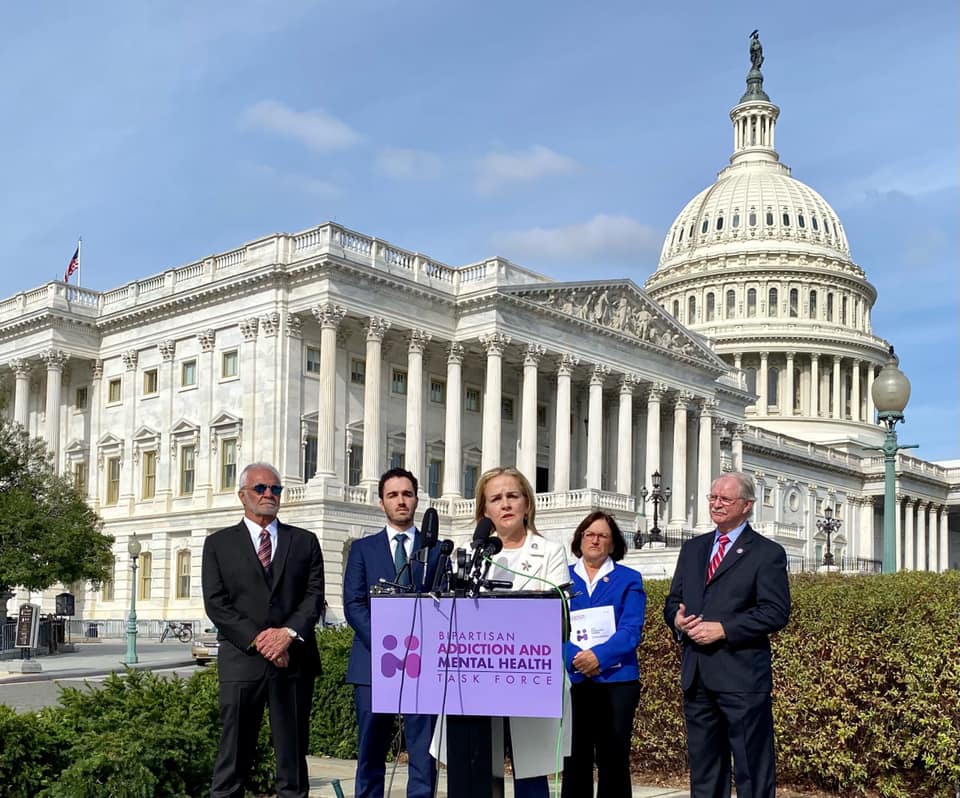 Rep. Dean supports universal, affordable high-quality healthcare.
Defending the Affordable Care Act and Expanding Care
The Affordable Care Act (ACA) and Medicaid expansion have meant health coverage for tens of millions of Americans — including more than a million Pennsylvanians.
Since her first day in Congress, Rep. Dean has fought to defend the ACA against a lawsuit and repeated attacks from the former administration — including voting to pass H.R. 987, the Strengthening Health Care and Lowering Prescription Drug Costs Act.
With the American Rescue Plan — Rep Dean helped improve the ACA by expanding Premium Subsidies. In Pennsylvania, this has resulted in an average net premium reduction of more than half — from $168/month to $85/month.
Rep. Dean will continue to fight to ensure we make the premium subsidies permanent — reducing the cost of healthcare for all Americans — while continuing her push to open accessible healthcare options for all.
The Opioid Crisis
Rep. Dean is working hard to address the opioid crisis and America's broader drug overdose epidemic, which now claims 70,000 lives each year. This fight is also personal to her — her son, Harry, is in long-term recovery from substance use disorder. Rep. Dean knows the pain addiction can cause a family, but also the hope that accessible, affordable, and widespread treatment can give.
As a member of the Bipartisan Addiction and Mental Health Taskforce, and she speaks regularly about the importance of destigmatizing substance use disorder and increased funding for treatment and recovery services and has introduced a number of legislative initiatives, including:
The Fairness in Orphan Drug Exclusivity Act

: This bill closes a loophole in the Orphan Drug Act, which allowed companies to claim exclusivity for opioid treatment despite expecting a large financial return.

This bill passed the House in the 116th and the 117th Congresses.

The End STIGMA Act: This bill would authorize the federal government to make grants to colleges and universities to establish programs to educate about substance use disorder, decrease stigma around the disease, and connect students to recovery and treatment resources near them.
Community Center Mental Health Screening Act: This bill authorizes new funds for Community Health Centers on the front lines of our communities. The grants would allow health centers to establish mental and behavioral health screening practices to help patients get diagnosed and treated for mental health issues.
Mental Health and Suicide
Rep. Dean is keenly focused on America's suicide problem. In her first seven months in office, she partnered with Republican Rep. Guy Reschenthaler (PA-14) to pass the STOIC Act, which allocates funds for suicide prevention efforts in police departments across the country. The bill was signed into law on July 25, 2019.
Women's Reproductive Health
Rep. Dean unequivocally supports women and their right to make intimate medical decisions in consultation with their doctors. Safe, accessible, and quality reproductive healthcare is a fundamental right for women, and as such she is a co-sponsor and voted to pass H.R. 3755 — the Women's Health Protection Act of 2021 — which protects a woman's ability to determine whether and when to bear a child – and defends the rights of healthcare providers to provide reproductive health services.
Rep. Dean is also a co-sponsor of the H.R. 556
—
the Global Health, Empowerment, and Rights (HER) Act
which would prevent any president from unilaterally imposing the Global Gag Rule
More on Health
November
2021
August
2021
June
2021
April
2021
March
2021
February
2021
January
2021
December
2020