Ida Disaster and Recovery Resources
Updated 9/10/21
On September 1st, the remnants of Hurricane Ida brought historic rain and flooding to Pennsylvania, causing widespread devastation to communities, homes, and businesses. As part of the ongoing relief efforts, my office has dedicated this page to sharing important information as well as state and federal resources available to those impacted by the storm. For specific information related to your municipality and county, we encourage you to monitor updates from your county emergency offices in Montgomery and Berks Counties We will regularly update this page as additional information and resources become available; in the meantime, my office also stands ready to assist you and your loved ones in any way possible.
About the FEMA Major Disaster Declaration
On September 10, 2021, President Biden approved Major Disaster Declarations (MDD) for Pennsylvania. The incident period for both declarations is from August 31 – September 5, 2021, and authorizes FEMA to provide federal disaster assistance to impacted areas. Visit FEMA's official Pennsylvania's Hurricane Ida Disaster Page here: https://www.fema.gov/disaster/4618
The type of federal assistance available in Pennsylvania may vary depending on your county and whether your county was officially declared a major disaster. The Pennsylvania Emergency Management Agency (PEMA) is working with FEMA to conduct preliminary damage assessments in counties all over Pennsylvania to determine which counties should qualify for an MDD. Once preliminary damage assessments are completed in a given county, the PEMA will submit an application to FEMA requesting the declaration. FEMA will then review the request and determine whether the request is approved. FEMA and PEMA continue to conduct these assessments and are approving qualifying counties on a rolling basis.
Pennsylvania Counties with approved Major Disaster Declarations
Montgomery County
Bucks County
Chester County
Delaware County
Philadelphia County
York County
*NOTE: Additional MDD Counties will be announced on a rolling basis. Please continue to check back for updates.
**Source: https://www.fema.gov/disaster/declarations


About Disaster Assistance
Federal disaster assistance from FEMA may be available for certain expenses which are not covered by insurance policies (Homeowner, Renter, Flood, etc.) or from active Voluntary Agencies/Mass Care (emergency food, shelter, clothing, medical, etc.). For counties with major disaster declarations, this can include grants for temporary housing and home repairs, low-cost loans to cover uninsured property losses, and other programs to help individuals and business owners recover from the impact of Hurricane Ida. Please view the below fact sheets for information on the different types of assistance.
Apply for Federal Assistance
The county has received a Major Disaster Declaration, therefore you may apply online for individual assistance from FEMA or constituents may call the application phone number at 1-800-621-3362 (TTY: 800-462-7585).
Please be sure to read the above Sequence of Delivery Fact Sheet.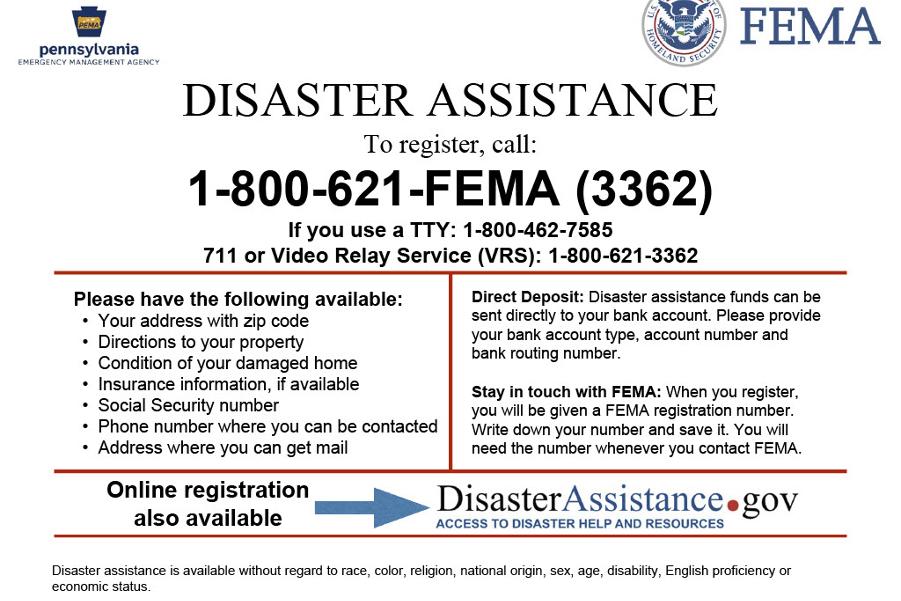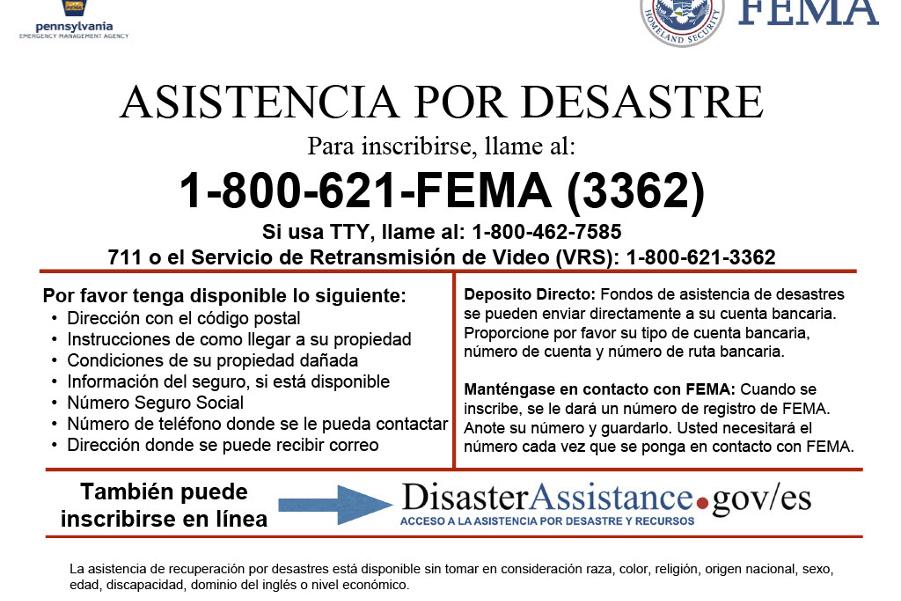 Tips for Applying
When you apply for assistance, have the following information readily available:
A current phone number where you can be contacted
Your address at the time of the disaster and the address where you are now staying
Your Social Security number, if available
A general list of damage and losses
If insured, the policy number or the agent and/or the company name
Remember to document everything – take photos and document all damages and keep all receipts related to cleanup and repairs.
Apply for Assistance from the Small Business Administration
In addition to FEMA assistance programs, the U.S. Small Business Administration (SBA) offers low-interest disaster loans for homeowners, renters, businesses of any size, and most nonprofits. Similar to FEMA claims, SBA cannot duplicate benefits for losses covered by insurance.
For small businesses, those engaged in aquaculture and most nonprofits, loans up to $2 million is available for working capital needs even if there was no property damage, with a $2 million maximum loan for any combination of property damage and working capital needs.
For homeowners: loans up to $200,000 is available to repair or replace their primary residence.
For homeowners and renters: up to $40,000 is available to replace personal property, including vehicles.
How to Apply to SBA
Businesses and residents can apply online at https://disasterloanassistance.sba.gov
For questions and assistance completing an application, call 800-659-2955 or email DisasterCustomerService@sba.gov. The SBA will answer specific questions about how a disaster loan may help each survivor recover from the disaster damage
Other Resources
Red Cross: People in need of emergency assistance from the Red Cross can call: (800) RED-CROSS or (800) 507-6058. For people who have been displaced, please use the Red Cross website to find a shelter near you.
Donations/Volunteerism: If you wish to assist with the recovery efforts, you should check in with your local governments/orgs first, or visit FEMA's Volunteer/Donate page.
Updated 9/7/21
If You Have Had Property Damage:
Report damages/loss to your local or county Emergency Management Office – they will report them to PEMA so that assessment can be done to determine if a Federal Disaster will be issued, thus engaging FEMA for assistance. You can report online to Montgomery County Emergency Management here: https://veoci.com/v/p/form/b7bf7bpujcv6?
Take pictures of both the building and its contents, for insurance claims and reporting to PEMA
Urgent Resources:
Individuals needing a place to stay on Thursday night (September 2) may go to the RedCross Shelter at the Norristown Area High School, located at 1900 Eagle Drive, Norristown, PA 19403.
Montgomery County has stood up a Hurricane Ida Crisis Cleanup Hotline (844) 965-1386 for residents who have sustained damage and need help with cutting fallen trees, removing affected drywall, flooring, and appliances; tarping roofs, and mold remediation.
Residents who would like to get text messages with updates on storm recovery, please Text MontcoIda to 888-777.
Safety Recommendations:
Throw away medicine, food, or water that had contact with floodwaters (including canned goods).
If water is of questionable purity, boil drinking water for 10 minutes.
Restrict children from playing in flooded areas.
If the gas has been turned off for any reason, it must be turned back on by a professional
Have an electrician check the electrical system and appliances. Keep the power off until an electrician has inspected the system for safety. All electrical equipment should be checked and dried before being returned to service.
Keep windows and doors open for ventilation.
Pump out flooded basements gradually (removing about 1/3 of the water volume each day) to avoid structural damage.
Clean and disinfect everything that got wet.