Hurricane Ida Disaster
On September 1st, the remnants of Hurricane Ida brought historic rain and flooding to Pennsylvania, causing widespread devastation to communities, homes, and businesses. As part of the ongoing relief efforts, my office has dedicated this page to sharing important information as well as state and federal resources available to those impacted by the storm. For specific information related to your municipality and county, we encourage you to monitor updates from your county emergency offices in Montgomery and Berks Counties We will regularly update this page as additional information and resources become available; in the meantime, my office also stands ready to assist you and your loved ones in any way possible.
Mobile Disaster Recovery Center (MDRC)
The MDRCs will offer a limited number of services from FEMA, SBA, and a state program manager. Individuals, families, and business owners can get help applying for federal assistance, receive information about the types of assistance available, learn about the appeals process, and get updates on their applications. Those interested in the comprehensive suite of federal, state, and Montgomery County services are encouraged to visit the full-service Disaster Recovery Center (DRC) at the Montgomery County Community College.
MDRC Locations, Dates, and Hours (last updated 11/12/21)
Bridgeport Borough Hall (63 W. 4th Street, Bridgeport, PA 19405)

Thursday, October 28: 12 p.m. - 7 p.m.

Black Rock Volunteer Fire Company (260 Green Tree Road, Oaks, PA 19456)

Saturday, October 30th: 9AM - 2PM

Hampton Inn & Suites Valley Forge/Oaks (100 Cresson Boulevard, Phoenixville, PA 19460)

Tuesday, November 2 and Wednesday, November 3: 12 p.m. - 7 p.m.

SpringHill Suites Philadelphia Plymouth Meeting (430 Plymouth Road, Plymouth Meeting, PA 19462)

Tuesday, November 9 and Wednesday, November 10: 12 p.m. - 7 p.m.

Black Rock Volunteer Fire Company - Mont Clare Station (216 Bridge Street, Mont Clare, PA 19453)

Wednesday, November 17 and Thursday, November 18: 9 a.m. - 6 p.m.
About the FEMA Major Disaster Declaration
Updated 9/10/21
On September 10, 2021, President Biden approved Major Disaster Declarations (MDD) for Pennsylvania. The incident period for both declarations is from August 31 – September 5, 2021, and authorizes FEMA to provide federal disaster assistance to impacted areas. Visit FEMA's official Pennsylvania's Hurricane Ida Disaster Page here: https://www.fema.gov/disaster/4618
The type of federal assistance available in Pennsylvania may vary depending on your county and whether your county was officially declared a major disaster. The Pennsylvania Emergency Management Agency (PEMA) is working with FEMA to conduct preliminary damage assessments in counties all over Pennsylvania to determine which counties should qualify for an MDD. Once preliminary damage assessments are completed in a given county, the PEMA will submit an application to FEMA requesting the declaration. FEMA will then review the request and determine whether the request is approved. FEMA and PEMA continue to conduct these assessments and are approving qualifying counties on a rolling basis.
Pennsylvania Counties with approved Major Disaster Declarations
Montgomery County
Bucks County
Chester County
Delaware County
Philadelphia County
York County
*NOTE: Additional MDD Counties will be announced on a rolling basis. Please continue to check back for updates.
**Source: https://www.fema.gov/disaster/4618


About Disaster Assistance
Federal disaster assistance from FEMA may be available for certain expenses which are not covered by insurance policies (Homeowner, Renter, Flood, etc.) or from active Voluntary Agencies/Mass Care (emergency food, shelter, clothing, medical, etc.). For counties with major disaster declarations, this can include grants for temporary housing and home repairs, low-cost loans to cover uninsured property losses, and other programs to help individuals and business owners recover from the impact of Hurricane Ida. Please view the below fact sheets for information on the different types of assistance.
Apply for FEMA Assistance
The county has received a Major Disaster Declaration, therefore you may apply online for individual assistance from FEMA or constituents may call the application phone number at 1-800-621-3362 (TTY: 800-462-7585).
The deadline for Pennsylvania residents to apply for Individual Assistance from FEMA was recently extended. Homeowners and renters who sustained damage to their property, that wasn't covered by insurance, in Bedford, Bucks, Chester, Delaware, Montgomery, Northampton, Philadelphia, and York counties now have until Dec. 10 to register for disaster assistance
Please be sure to read the above Sequence of Delivery Fact Sheet.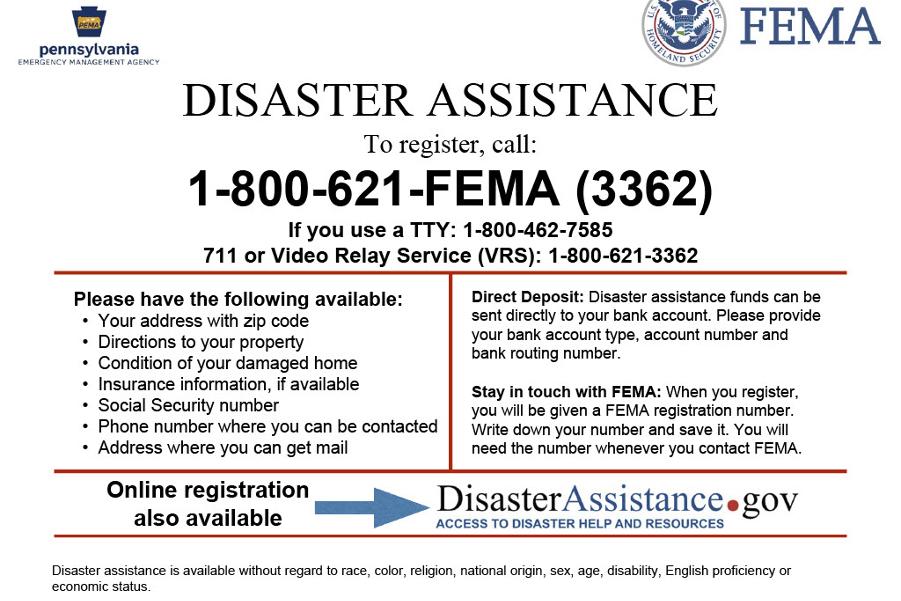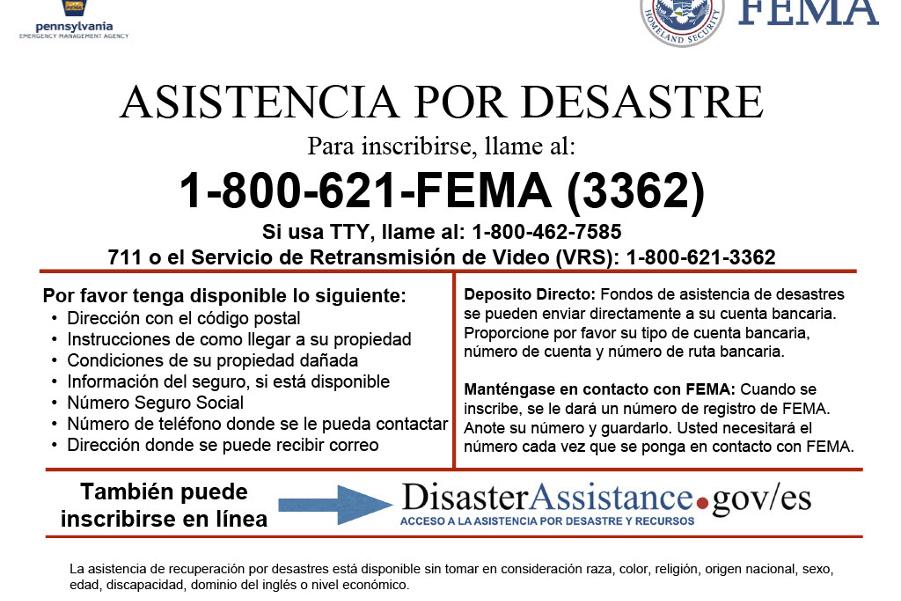 Tips for Applying
When you apply for assistance, have the following information readily available:
A current phone number where you can be contacted
Your address at the time of the disaster and the address where you are now staying
Your Social Security number, if available
A general list of damage and losses
If insured, the policy number or the agent and/or the company name
Remember to document everything – take photos and document all damages and keep all receipts related to cleanup and repairs.
Apply for Small Business Administration Assistance
In addition to FEMA assistance programs, the U.S. Small Business Administration (SBA) offers low-interest disaster loans for homeowners, renters, businesses of any size, and most nonprofits. Similar to FEMA claims, SBA cannot duplicate benefits for losses covered by insurance.
For small businesses, those engaged in aquaculture and most nonprofits, loans up to $2 million is available for working capital needs even if there was no property damage, with a $2 million maximum loan for any combination of property damage and working capital needs.
For homeowners: loans up to $200,000 is available to repair or replace their primary residence.
For homeowners and renters: up to $40,000 is available to replace personal property, including vehicles.
How to Apply to SBA
Businesses and residents can apply online at https://disasterloanassistance.sba.gov
For questions and assistance completing an application, call 800-659-2955 or email DisasterCustomerService@sba.gov. The SBA will answer specific questions about how a disaster loan may help each survivor recover from the disaster damage
Berks County SBA Reporting and Resources
The disaster declaration covers the hardest-hit counties, including several that neighbor Berks County. As an adjacent county, Berks County small businesses and private nonprofit organizations can apply for SBA Economic Injury Disaster Loans. Learn more here > (Also attached as a PDF)
Hazard Mitigation
FEMA Hazard Mitigation disaster assistance was also approved on September 10th for the entirety of Pennsylvania. This provides funding for mitigation that will reduce future losses from storm damage. More information can be found within FEMA's Hazard Mitigation Assistance Guidance. This year's grant program will open on October 18, 2021 but a letter of intent must be sent by October 15, 2021.
If your project meets the eligibility requirements, you must send the Non-Contractual and Required Letter of Intent (LOI) form to PEMA by October 15, 2021. The Letter of Intent Form can be found on the PEMA Website at: https://www.pema.pa.gov/Grants/HMGP/Forms/Documents/00-HMGP-Letter-of-Intent.pdf
You must submit the completed Letter of Intent to PEMA at RA-Shazmitoff@pa.gov Once the form is submitted, you will receive an application packet.
Here is the timeline for the grant application process as provided by PEMA:
PEMA Phase 1 Letters of Interest must be sent to PEMA by COB, October 15, 2021.
PEMA Phase 2 Letters of Interest must be sent to PEMA by COB, December 3, 2021.
Complete Phase 1 HMGP Disaster Applications are due by COB January 7, 2022.
Complete Phase 2 HMGP Disaster Applications are due by COB February 28, 2022.
Any questions regarding this program may be sent to RA_Shazmitoff@pa.gov (State Hazard Mitigation Office e-mail resource account).
Public Assistance
On October 8th, the President approved a Public Assistance (PA) program under his September disaster declaration. Through this program FEMA will be able to help state, local, tribal, and territorial governments and certain types of private nonprofit organizations cover their costs for life-saving emergency protective measures, debris removal, and restoring public infrastructure.
There are several Project Categories PA funding according to the type of work the municipality undertakes. Eligible work must be required as a result of the declared incident, be located in the designated area, be the legal responsibility of the applicant, and be undertaken at a reasonable cost. Remember, this is a reimbursement program so, documentation of eligible expenses related to the incident period is important.
FEMA PA eligible work is classified into the following categories:
Emergency Work
Category A: Debris removal
Category B: Life-saving emergency protective measures
Permanent Work
Category C: Roads and bridges
Category D: Water control facilities
Category E: Public buildings and contents
Category F: Public utilities
Category G: Parks, recreational, and other facilities
Federal funding guidelines for each of these categories are listed in the Public Assistance Program and Policy Guide, which is located online at www.fema.gov/public-assistance-policy-and-guidance. A Public Assistance fact sheet is also attached to this email.
Municipalities interested in applying for a PA Grant should contact their county or state emergency manager to begin the process and submit a Request for Public Assistance form. Applicants are highly encouraged to submit their forms through the online FEMA Grants Portal for faster processing.
Municipalities and certain non-profit organizations can pre-register now by visiting https://grantee.fema.gov/EventOpenRequestPeriod. Applicants will have 30 days from the date of declaration to complete the applications for eligible work.
Other Resources
FREE LEGAL ASSISTANCE
A toll-free legal aid helpline, operated by Legal Aid of Southeastern PA, is now available for survivors of Hurricane Ida in Pennsylvania. Low-income survivors facing legal issues may call 877-429-5994. The helpline will be staffed Monday through Friday from 9 a.m. to 1 p.m., but messages can be left 24/7.
Callers should identify that they are seeking storm-related legal assistance, name the county in which they are located, and describe their legal problems. Survivors who qualify for assistance will be matched with Pennsylvania lawyers who have volunteered to provide free legal help.
Examples of legal assistance available may include:
Assistance with securing FEMA and other benefits available to disaster survivors
Help with home repair contracts and contractors
Replacement of wills and other important legal documents destroyed in the disaster
Assisting in consumer protection matters, remedies and procedures
Counseling on mortgage-foreclosure problems
Counseling on landlord/tenant problems
Assistance with life, medical, and property insurance claims
Donations/Volunteerism: If you wish to assist with the recovery efforts, you should check in with your local governments/orgs first, or visit FEMA's Volunteer/Donate page.
Updated 9/7/21
If You Have Had Property Damage:
Report damages/loss to your local or county Emergency Management Office – they will report them to PEMA so that assessment can be done to determine if a Federal Disaster will be issued, thus engaging FEMA for assistance. You can report online to Montgomery County Emergency Management here: https://veoci.com/v/p/form/b7bf7bpujcv6?
Take pictures of both the building and its contents, for insurance claims and reporting to PEMA
Urgent Resources:
Montgomery County has stood up a Hurricane Ida Crisis Cleanup Hotline (844) 965-1386 for residents who have sustained damage and need help with cutting fallen trees, removing affected drywall, flooring, and appliances; tarping roofs, and mold remediation.
Residents who would like to get text messages with updates on storm recovery, please Text MontcoIda to 888-777.
Safety Recommendations:
Throw away medicine, food, or water that had contact with floodwaters (including canned goods).
If water is of questionable purity, boil drinking water for 10 minutes.
Restrict children from playing in flooded areas.
If the gas has been turned off for any reason, it must be turned back on by a professional
Have an electrician check the electrical system and appliances. Keep the power off until an electrician has inspected the system for safety. All electrical equipment should be checked and dried before being returned to service.
Keep windows and doors open for ventilation.
Pump out flooded basements gradually (removing about 1/3 of the water volume each day) to avoid structural damage.
Clean and disinfect everything that got wet.