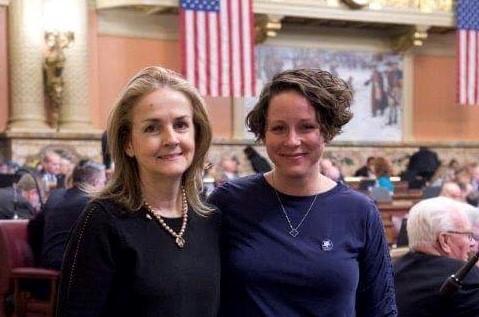 At today's State of the Union address, Rep. Madeleine Dean will be joined by Jami Amo, a Willow Grove resident, gun safety activist, and survivor of the 1999 Columbine school shooting.
"Gun violence kills 40,000 Americans every year – and another 80,000 are wounded in the crossfire," said Rep. Dean. "Surrounding these victims are entire communities that suffer too. At tomorrow's address, I'm blessed to be joined by my friend Jami Amo. Jami lived through one of America's worst school shootings, and she has since become a courageous activist – telling her story so that others don't have to experience what she did."
Amo's emergence as an activist took place after watching the shooting at Marjory Stoneman Douglas High School in Parkland, Florida last year. In a moving essay in Newsweek, Amo wrote, "I felt an immediate connection to those students in Florida whom I had never met." They – like Amo – had lived through terror that no child should ever face.
"Our schools should be safe and joyous places where kids can grow and thrive," said Rep. Dean. "Yet today, our children participate in active shooter drills and lockdown exercises. Our elected leaders burden our children with fear and anxiety – when they should be standing up to the gun lobby. We can do better than this."
Since being sworn in a month ago, the Democratic House majority has introduced a range of important gun safety legislation, including H.R. 8, a universal background check bill that is supported by 97 percent of the American public.
Looking ahead to the State of the Union, Amo said, "I would like to hear our President address and endorse H.R. 8, so that we may begin to reduce gun violence in America."
Rep. Dean echoed Amo's support for H.R. 8: "Guns are deadly serious, and we should be equally serious about keeping them out of criminals' hands."
Rep. Dean has also introduced H.R. 869, which will prohibit the possession of any firearm that is undetectable by airport-level detection devices. Known as the Undetectable Firearms Modernization Act, this bill requires any firearm with all of its major components attached to generate a gun-shaped image in the detection systems. This issue has become more prevalent with the increased manufacture of all-plastic and 3-D printed plastic guns.
"We cannot sit idle – not when more than a hundred Americans are dying every day from gun violence," said Rep. Dean. "We can save lives – and that's what we plan to do."
###
For more information, please contact Matt Bieber, Communications Director for Rep. Dean, at 202-569-2879 or Matthew.Bieber@mail.house.gov