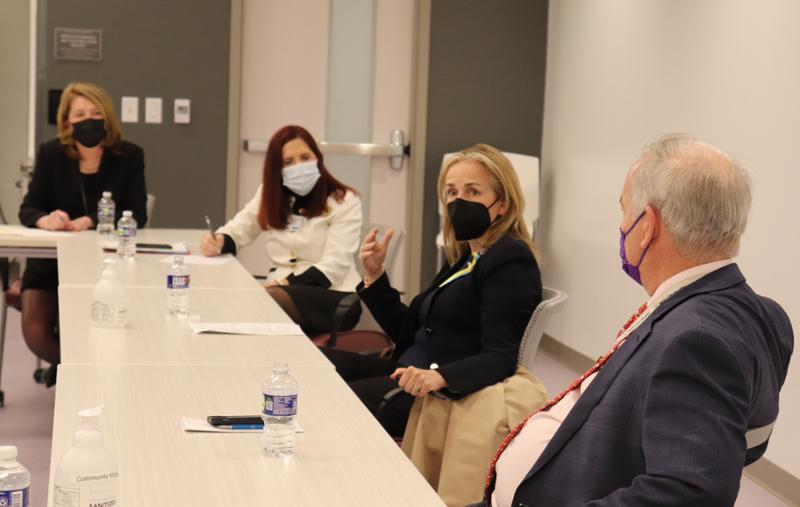 King of Prussia, PA – As the world continues to grapple with the pandemic, behavioral health facilities are seeing a dramatic increase in appointments for women and families. To get a closer look at these facilities and their work in Pennsylvania, Congresswoman Madeleine Dean (PA-04) toured one of Main Line Health's newest facilities yesterday.
Main Line Health has seen a 5-fold increase in patients seeking behavioral health services. Their state-of-the-art facility in King of Prussia offers comprehensive health care for women and families through the Women's Specialty Center. The facility will also feature a rooftop farm initiative to serve local families struggling with food insecurity.
"I'm grateful to Main Line Health for their tour and for their work in ensuring that all women in our community have access to comprehensive health care, especially in areas of medicine that are often overlooked," Rep. Dean said. "During a time that has been challenging for all of us, we know how vital it is to have quality care – whether it is behavioral health, maternal health, emotional wellness, and so much more. I look forward to working more with Main Line Health."
Congresswoman Dean then participated in a roundtable discussion focused on how Main Line Health is meeting today's challenges – including their five clinical programs that offer both inpatient and outpatient services and a newly expanded inpatient psychiatric unit at Bryn Mawr Hospital.
"We are pleased to offer a variety of programs for our community that addresses the growing mental health crisis and provides a safe and welcoming environment for all those seeking help and treatment. We view Main Line Health King of Prussia as a premier destination for all levels of emotional and behavioral wellbeing for every member of the community we serve. Thank you to Congresswoman Dean for helping to shine a light on the critical needs of our community," Barbara Wadsworth, Chief Operating Officer said.
"It was great to host Congresswoman Dean and discuss areas where we can partner and collaborate to serve patients and their families throughout the region," John Lynch III, FACHE, President and CEO said. "Our investment in behavioral health is the right thing to do to provide much needed care and support for those in our community who are struggling.
The roundtable included top administration of Main Line Health: John Lynch III, FACHE, President and CEO; Barbara Wadsworth, DNP, RN, Chief Operating Officer; Leslie Lipson, Division Director, Women's Emotional Wellness Center; Dr. Kathryn Zagrabbe, MD, Psychiatric Specialist; Shannon Royer, System Director, Government Affairs; and Donna Philips, President, Bryn Mawr Rehab Hospital.
Rep. Madeleine Dean is a mother, grandmother, attorney, professor, former four-term member of the Pennsylvania House of Representatives, and U.S. Representative for the Fourth District of Pennsylvania.
###