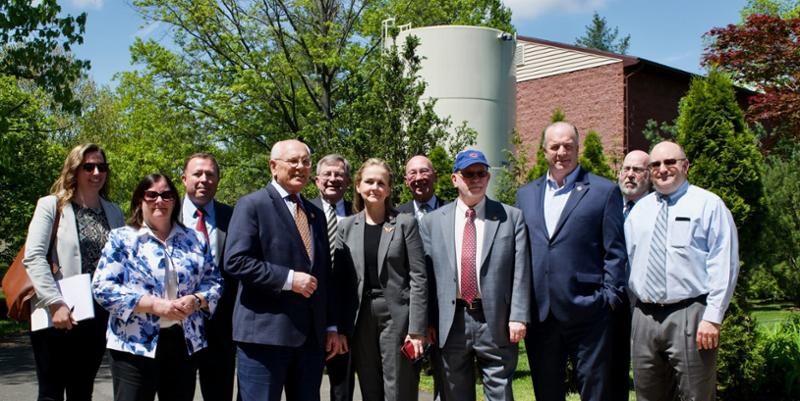 WASHINGTON – Today, Rep. Madeleine Dean (PA-04) announced that the Centers for Disease Control's (CDC) Agency for Toxic Substances and Disease Registry (ATSDR) has selected recipients for its multi-site PFAS health study – including Montgomery County, Pennsylvania.
"For years, we've done everything we can think of to draw attention to the ongoing contamination flowing off Naval Air Station Joint Reserve Base Willow Grove and into our region's groundwater," said Rep. Dean. "We know PFAS chemicals are linked to serious health consequences, and now we have a chance to learn more about how our constituents have been affected."
In April, CDC/ATSDR solicited research proposals for the study, which will look at the relationship between PFAS exposure and lipid metabolism, kidney function, thyroid disease, liver disease, glycemic parameters and diabetes, and immune response.
Rep. Dean led a letter in support of the Pennsylvania Department of Health's (PADOH) grant application. She also advocated successfully for $5 million in additional funding for the research in the House's National Defense Authorization Act.
Montgomery County will receive $1 million in grant funding, and research will be conducted by RTI International and PADOH. Nationally, seven sites were selected; the study aims to enroll a total of 6000 adults and 2000 children.
"Tackling our local – and national – water contamination problem is one of my highest priorities," said Rep. Dean. "Article 1, Section 27 of the Pennsylvania Constitution guarantees the "right to…clean water" and makes government the "trustee of these resources." We owe it to our constituents – and to their children and grandchildren – to protect our water supply forever."
Rep. Dean is a founding member of the bipartisan Congressional PFAS Task Force. She has also introduced H.R. 2600, the Toxic PFAS Control Act, which would ban the manufacture and processing of PFAS chemicals and require the Environmental Protection Agency (EPA) to regulate their disposal. In May, she hosted members of the PFAS Task Force in the Pennsylvania Fourth District, touring local sites affected by contamination and hosting a public roundtable discussion in Upper Dublin.
Rep. Madeleine Dean is a mother, grandmother, attorney, professor, former four-term member of the Pennsylvania House of Representatives, and U.S. Representative for the Fourth District of Pennsylvania.
###




CONTACT: Matt Bieber, 202-251-5643