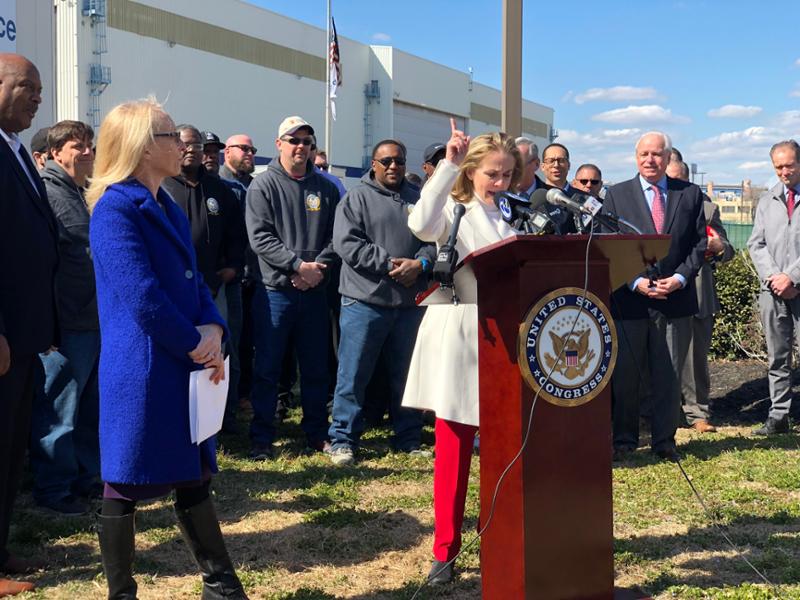 WASHINGTON, DC – Today, Reps. Madeleine Dean (PA-04), Karen Bass (CA-37), Michael Turner (OH-10), and Steve Stivers (OH-15) introduced the Fostering Stable Housing Opportunities Act of 2019 (FSHO) to provide additional housing support to vulnerable young people.
"Young adults transitioning out of the foster care system are often at great risk of homelessness and poverty," said Rep. Dean. "In fact, studies show that more than one in four former foster children becomes homeless within two to four years of leaving the system. This legislation will help them keep a roof over their heads as they claim their education or build a career."
The sudden transition from foster care to adulthood – including the related loss of the financial, educational, and social supports that the child welfare system provides – places this vulnerable population at great risk.
The Fostering Stable Housing Opportunities Act of 2019 addresses this problem by amending and improving upon an existing program and providing vouchers "on demand" to foster youth who are at risk of homelessness as they transition to adulthood. The bill also encourages self-sufficiency among youth, extending assistance from the current three years to five years if they pursue further education or workforce development opportunities or find employment.
"Homelessness disproportionately affects current and former foster youth more than their peers," said Rep. Bass. "We wouldn't allow the children in our lives to be homeless the day they become legal adults. The Fostering Stable Housing Opportunities Act would ensure that foster youth are protected against aging out of foster care and into homelessness. I'm proud to stand with my colleagues in supporting this important issue."
"The Fostering Stable Housing Opportunities Act will help break the cycle of federally created homelessness, in which youth are currently aging out of foster care and into homelessness," said Rep. Turner. "Roughly 21,000 youth across the country age out of foster care each year. This bill will create a pathway for kids aging out of the foster care system to transition successfully into independence. Aging out of foster care should not mean aging into homelessness. I am proud to have championed FSHO since its inception in 2015 – and after four years of refining this legislation, working directly with foster youth and alumni, and collaborating with Members on both sides of the aisle, I look forward to advancing FSHO through the House of Representatives."
"At 18, life is just getting started, and foster youth should not have their potential squandered by homelessness," Rep. Stivers said. "We should be giving kids all the tools they need to succeed, and that is what this legislation does. I'm proud to partner with Reps. Dean, Turner, and Bass to introduce the FSHO, and look forward to the impact it will make for over 20,000 foster youth."
"We applaud the Financial Services Committee staff for working in close partnership with foster youth to craft this elegantly simple, yet sophisticated solution to homelessness," said Ruth White, executive director of the National Center for Housing and Child Welfare. "By leading the re-introduction of FSHO, Rep. Dean is both protecting America's youth and acting on the commitment she made when she joined the Committee to tap existing tools to coordinate resources to improve the quality of life in communities nationwide."
"As a former foster youth who has been advocating for over a decade to improve access to housing and self-sufficiency services for my brothers and sisters in care, it is hard to express how gratifying it has been to work in full partnership with Hill staff to craft FSHO," said Jamole Callahan, Director of Training and Development for ACTION Ohio. "Reps. Dean, Bass, Turner, and Stivers have set a high bar for what it means to value the voices of youth and as a result youth no longer have to experience homelessness – instead they will thrive."
FSHO is endorsed by more than 40 organizations, including National Alliance to End Homeless, National Low Income Housing Coalition, Center on Budget and Policy Priorities, Child Welfare League of America, Coalition on Human Needs, Foster Care Alumni of America, Foster Care C.A.N., Foster Change Network LLC, iFoster, National Network for Youth, Safe Harbor Orphan Care, SchoolHouse Connection, and The Purple Project.
Rep. Madeleine Dean is a mother, grandmother, attorney, professor, former four-term member of the Pennsylvania House of Representatives, and U.S. Representative for the Fourth District of Pennsylvania. She is a member of the Judiciary and Financial Services Committees.
###
CONTACT: Matt Bieber, 202-251-5643