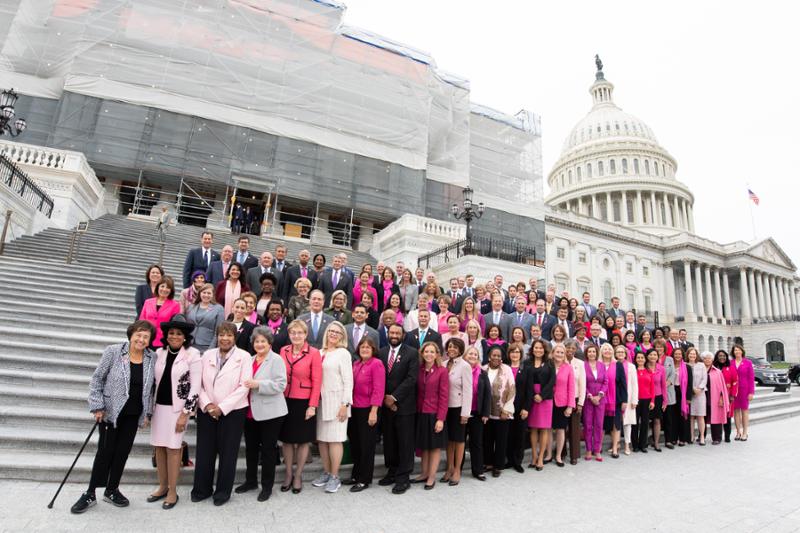 WASHINGTON – On Tuesday, Reps. Brenda Lawrence (MI-14), Debbie Lesko (AZ-08), Madeleine Dean (PA-04), Jenniffer González-Colón (PR), and Debbie Wasserman Schultz (FL-23) marked the end of Breast Cancer Awareness Month with an event on the Capitol steps.
"Breast cancer can be devastating – but there is so much women can do to keep themselves healthy, including mammograms and early detection. There is also a great deal that society – and Congress – can do to support breast cancer research, and we will continue to do so," said Rep. Dean.
"Breast cancer continues to be one of the leading causes of death for African-American women, and I am proud to stand with my colleagues in continuing to raise awareness of breast cancer. We must continue to stand together to fight for a cure," said Rep. Lawrence. "I believe early detection and education on self-examination can save the lives of men and women across the country."
"In 2019 alone, an estimated 6,930 women in Arizona will be diagnosed with breast cancer. Early detection and mammograms can help catch breast cancer early and increase the chance of survival. That is why I am grateful for my Congressional colleagues who joined us today to highlight Breast Cancer Awareness Month at the U.S. Capitol. Together, we can raise awareness and help save lives," said Rep. Lesko.
"Breast cancer is the second leading cause of cancer-related deaths among women in the United States. Similarly, studies conducted in Puerto Rico recognize breast cancer as the premier type of cancer among women, accounting for higher death rates than any other type of cancer in this population. However, early detection can result in a 98% chance of survival. Therefore, it is critical for women to undergo annual checkups and have periodic mammograms to target abnormalities in breast tissue, especially after their 40th birthday. As the Co-Vice Chair of the Women's Caucus, I am committed to raise awareness and educate women on the importance of early detection and cancer research ," said Rep. González-Colón.
"I was diagnosed with breast cancer and the BRCA2 gene mutation at age 41, and after seven surgeries, I'm now more than a decade cancer-free. Beating cancer was only the beginning of the journey of cancer survivorship, and for me, a life-long mission to translate my experiences into something greater than myself. I want other young women to have better access to information and the tools to detect, fight, and survive breast cancer. We must continue the vital work of educating all women – including those who are younger and at higher-risk – about their breast health, and direct their attention to this deadly disease," said Rep. Wasserman Schultz.
Reps. Brenda Lawrence (MI-14) and Debbie Lesko (AZ-08) serve as Co-Chairs of the Bipartisan Women's Caucus. Reps. Madeleine Dean (PA-04) and Jenniffer González-Colón (PR) serve as Vice Chairs. Rep. Debbie Wasserman Schultz (FL-23) is a leading advocate for breast cancer research and a breast cancer survivor.