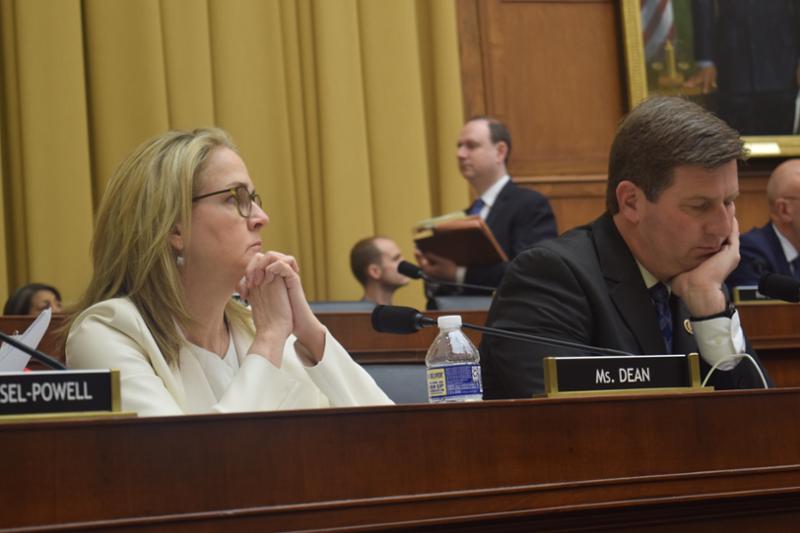 Last night, the House Judiciary Committee passed two essential gun safety bills: H.R. 8 requires universal background checks, and H.R. 1112 closes the "Charleston Loophole" by strengthening background check procedures for firearm sales.
"Today marks one year since Parkland," said Judiciary Committee member Rep. Dean. "In that time, guns have killed another 40,000 Americans, and another 80,000 people have been wounded in the crossfire. These are our neighbors and fellow citizens. It's time we start protecting them."
Last night's votes represent progress. "Ninety-seven percent of Americans support universal background checks," said Rep. Dean. "Right now, however, loopholes in our laws allow firearm purchases from non-licensed sellers – including at gun shows or online – with no background check at all. That's a problem: we know that 1 in 9 online buyers would not pass a background check at a gun dealer. We also know that when states implement background check laws, we save lives."
The second bill, H.R. 1112, fixes the "Charleston loophole" – otherwise known as "default proceed." Under current federal law, if gun dealers initiate background checks and are not notified within three business days that the sale would violate federal or state laws, they are permitted to go forward with the sale. "Law-abiding citizens can rest assured that they'll face no undue burden. Over 90 percent of background checks are completed within minutes, and that won't change," said Rep. Dean. "In some cases, though, federal law enforcement officials need more time to investigate. When we don't give them that time, we endanger our communities."
Tragically, that is what happened in 2015, when Dylann Roof killed nine worshipers at the Emanuel AME Church in Charleston, South Carolina. Roof had failed a background check, but because the check wasn't completed in three days, he was free to buy a gun. "In 2017, nearly 5,000 prohibited purchasers were able to buy guns simply because their background checks hadn't cleared in three days," said Rep. Dean.
Rep. Dean also spoke out about efforts by some members of the Judiciary Committee to delay passage of these bills in a hearing that lasted eleven hours. "For years, Congress has avoided this common-sense legislation, at great cost to the safety of our communities. Attempts by many on the Judiciary Committee to delay passage even further are shameful. While we spent yesterday trying to close loopholes, some Republican colleagues tried to open new ones. The people have spoken: it is time for Congress to listen, to offer more than just thoughts and prayers, and to finally move this legislation forward."
The committee did so, approving H.R. 8 by a vote of 23-15 and H.R. 1112 by a vote of 22-14. "Over the past year, we have been inspired by the courage and activism of Parkland's students," said Rep. Dean. "They have insisted that America take action to prevent another tragedy like the one that tore their community apart. And we stand alongside them."
###
For more information, please contact Matt Bieber, Communications Director for Rep. Dean, at 202-569-2879 or Matthew.Bieber@mail.house.gov.