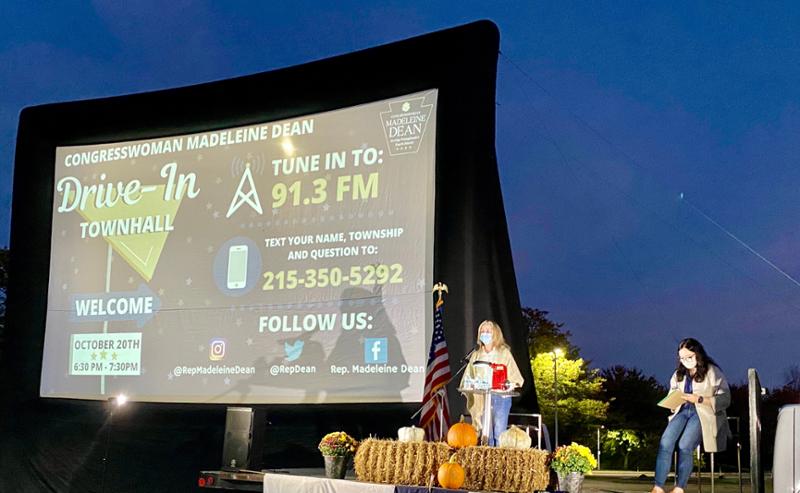 Blue Bell, PA – Last night, Rep. Madeleine Dean (PA-04) hosted her very first drive-in town hall at the Montgomery County Community College's Blue Bell Campus. The drive-in town hall was an opportunity for constituents to safely connect with Congresswoman Dean. Topics included the COVID-19 relief and vaccine, the opioid crisis, climate change, the economy, and more.
"They beeped and flashed their lights to show support for the issues they cared about -- an outside the box idea for a town hall to hear directly from our constituents on the many issues plaguing our nation," Rep. Dean said. "COVID-19 has created unique challenges for our nation and although we can not be near one another, this event proved we can still connect. Thank you to everyone that beeped their horns, flashed their lights, and called to ask their questions."

Rep. Dean stood on the back of a flatbed truck with decorative fall foliage while constituents listened to her speak on 91.3 FM from their vehicles. If someone had a question, they would text Rep. Dean, and she would call them back and place the phone on the microphone so everyone could hear their question. Since the beginning of this pandemic Rep. Dean has held many telephone town halls, and this was her first in-person town hall since the pandemic began.

Rep. Dean's office has a talented team of caseworkers who have helped hundreds of constituents get the assistance they need during the coronavirus pandemic. Constituents can learn more by calling Rep. Dean's Glenside office: 215-884-4300, or by visiting Rep. Dean's website: dean.house.gov.
Live video from the event can be found on Rep. Dean's Facebook page: https://www.facebook.com/RepMadeleineDean/videos/367597787626285