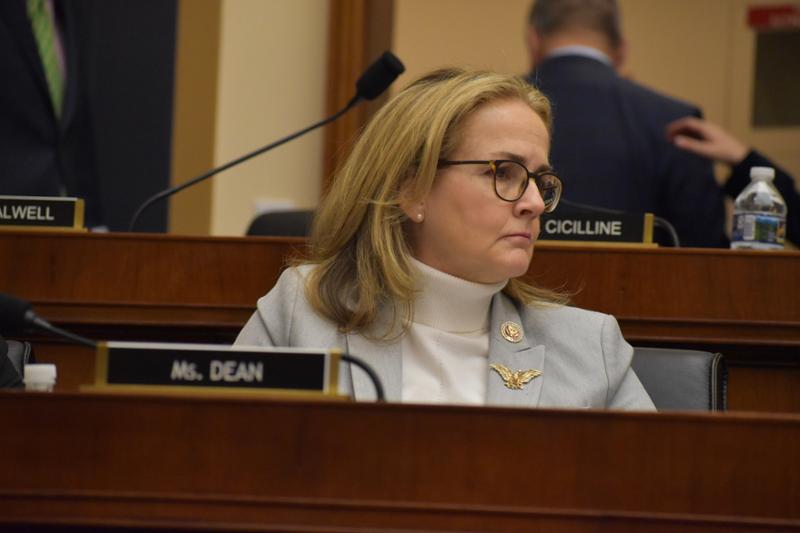 WASHINGTON – Recently, Congresswoman Madeleine Dean (PA-04) and Congressman Elijah E. Cummings (MD-07) introduced the Promoting Reentry through Education in Prisons (PREP) Act. The legislation would ensure that incarcerated individuals receive the educational opportunities they need to successfully reenter their communities after completing their sentences. Senator Brian Schatz (D-HI) introduced companion legislation in the Senate.
Providing incarcerated individuals with the resources to effectively reintegrate into society upon release can dramatically reduce recidivism. Two-thirds of formerly-incarcerated individuals are rearrested within three years; however, incarcerated people who participated in educational programs had 43 percent lower odds of reentering prison than those who did not.
"It's in everyone's interest that when people re-enter society, they do so with the skills they need to build decent futures for themselves and their families," said Congresswoman Dean. "Educational opportunities make all the difference, boosting employment by nearly 30% according to Justice Department research. This bill will help us break the cycle of recidivism and reincarceration – and create more positive outcomes for all."
"Education gives us direction and often provides people with the tools they need to leave the path that originally led them to incarceration. Educational programs are proven to reduce recidivism, and it is imperative that every incarcerated individual is provided with the opportunity to better themselves and leave prison ready to fully contribute to their communities," said Congressman Cummings. "The bill we introduced today will provide the BOP with the tools and guidance they need to provide incarcerated individuals the educational opportunities to change their lives for the better."
Pennsylvania Secretary of Corrections John Wetzel said, "The more educated an individual is, the less likely he or she will be to commit crimes. That is why in Pennsylvania's state prison system we encourage inmates to obtain their high school or commonwealth secondary diploma. Our efforts don't end there. We also provide inmates with excellent vocational courses that result in their receiving NCCER certificates. We also have a culinary arts program where inmates earn SafeServ certificates. Through our transformational education efforts, including our work in secondary education for inmates through Pell, we can provide pathways to more opportunities for inmates, preparing them for a successful return to their communities after incarceration."
The PREP Act takes several important steps:
Establishes an Office of Correctional Education within the Bureau of Prisons. The Office would standardize educational programs across all federal prisons, ensuring that BOP provides educational services for adult literacy, GED, postsecondary, workforce readiness, apprenticeships, career and technical education, and expanded opportunities for individual with learning disabilities.
Establishes the Federal Correctional Education Program. The program would create partnerships between federal correctional facilities and education providers to create quality programs.
Trains and assists state and local correctional institutions. The legislation would provide for training and technical assistance to state and local correctional institutions that implement similar education programs.
Notifies veterans of their eligibility. The bill would ensure that eligible veterans are notified of their ability to access education benefits and are connected with available programs in their federal or state correctional facility.
The PREP Act has earned the support of more than 20 organizations, including the Association of State Correctional Administrators, NAACP, ACLU, The Leadership Conference on Civil and Human Rights, #cut50, Campaign for Youth Justice, Drug Policy Alliance, The Sentencing Project, and Students for Sensible Drug Policy (SSDP). The full list of endorsing organizations can be found here. The full bill text is available here.
###