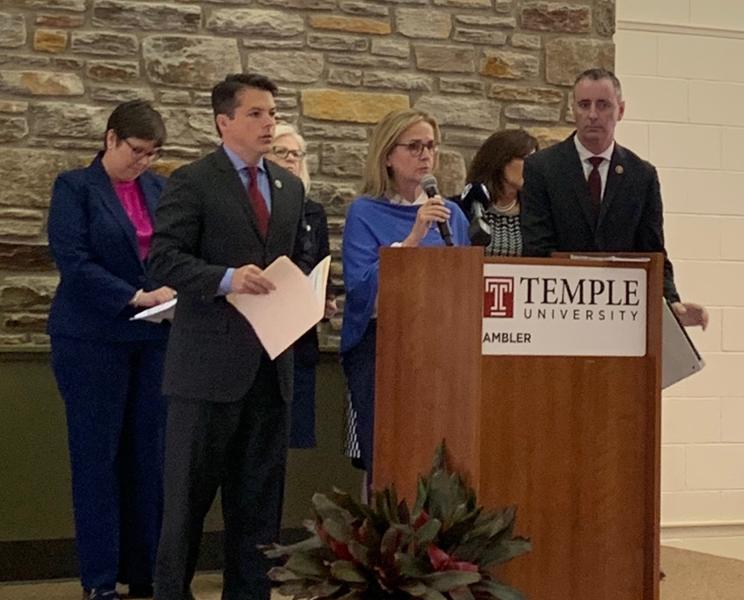 WASHINGTON – Today, Rep. Madeleine Dean (PA-04) announced that the Department of Defense (DoD) will review its use of per- and polyfluoroalkyl substances (PFAS), chemicals long used by the military in firefighting foam and other applications. PFAS is linked to a range of serious health effects, including immunological disorders, infertility, and certain cancers. Because they do not break down easily, PFAS compounds are known as "forever chemicals."
In July, Rep. Dean joined 30 Members of Congress to request that DoD evaluate its use of the chemicals, including any health effects on military personnel and civilians living near military facilities.
"I am pleased that DoD is responding to our country's water contamination problem, though additional clarity about the scope and timeline of their study is needed," said Rep. Dean. "This is urgent: in our area, PFAS-polluted water continues to pour off the Willow Grove Naval Air Station and into our groundwater, and base leaders have failed to take adequate steps to stop the contamination."
DoD will offer additional details about its evaluation early next year.
Rep. Dean is a member of the bipartisan PFAS Task Force. In April, she led a letter in support of the Pennsylvania Department of Health's (PADOH) application for grant funding; in September, she announced that Montgomery County had been selected as one of seven sites for a nationwide PFAS health study – and will receive a $1 million research grant. Rep. Dean also successfully advocated for $5 million in additional funding for the research in the House's National Defense Authorization Act, as well as a provision that would phase out DoD's use of the chemicals.
In May, Rep. Dean introduced the Toxic PFAS Control Act (H.R. 2600), which would ban the manufacture and processing of PFAS and require the Environmental Protection Agency (EPA) to regulate its disposal. This legislation recently passed out of subcommittee and will be evaluated by the Energy and Commerce Committee.
Rep. Madeleine Dean is a mother, grandmother, attorney, professor, former four-term member of the Pennsylvania House of Representatives, and U.S. Representative for the Fourth District of Pennsylvania.
###