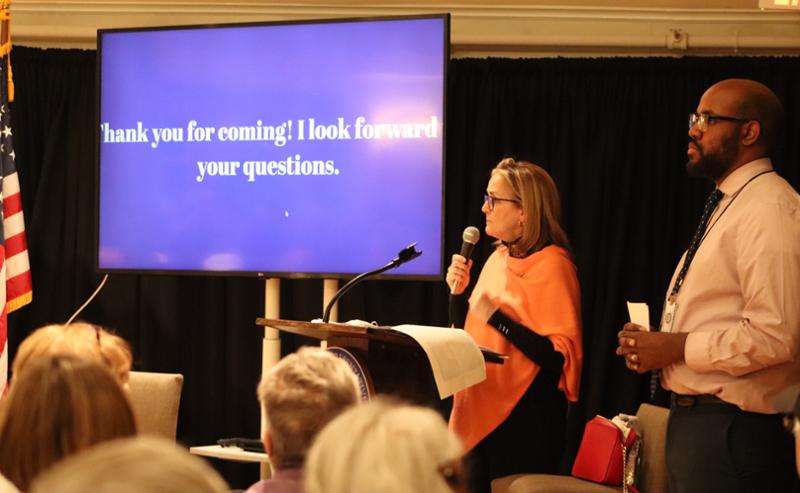 LOWER MERION, PA – On Monday, February 3, Rep. Dean hosted the first Town Hall of the new year at the Cynwyd Club in Lower Merion Township. Joined by over 160 constituents, Rep. Dean discussed gun violence prevention, the student debt crisis, climate change and impeachment – and the issues Democrats would be focused on in 2020 like infrastructure, healthcare, and climate change.
Rep. Dean reflected on the Supporting and Treating Officers in Crisis (STOIC) Act (H.R. 2368), a bipartisan bill signed into law on July 25, 2019, to improve the mental health treatment and support for our nation's law enforcement officers, especially as it relates to suicide prevention. As PFAS contamination continues to riddle Montgomery County, pressure from Rep. Dean led to the Air Force disbursement of $2.8 million in funds to build a permanent containment and filtration system for PFAS-contaminated surface water.
Constituents led the conversation, asking questions specific to their needs. Rep. Dean highlighted three major priorities: healthcare, infrastructure, and climate change – noting House Democrats' $760 billion Moving Forward infrastructure initiative that would include a $2.5 billion grant program to tackle PFAS water contamination, improvements to our highways and public transport, and and putting us on a path to net zero emissions..
If you missed the Town Hall you can view it here.
Rep. Dean also noted the following upcoming events in the district:
Census Recruitment Event (February 20, 2020 5:00 PM – 7:00 PM)
Greenbook Black Business Roundtable (February 24, 2020 9:00 AM – 10:30 AM)
Climate Change Panel (March 7, 2020 1:00 PM – 3:00 PM)

Rep. Madeleine Dean is a mother, grandmother, attorney, professor, former four-term member of the Pennsylvania House of Representatives, and U.S. Representative for the Fourth District of Pennsylvania.