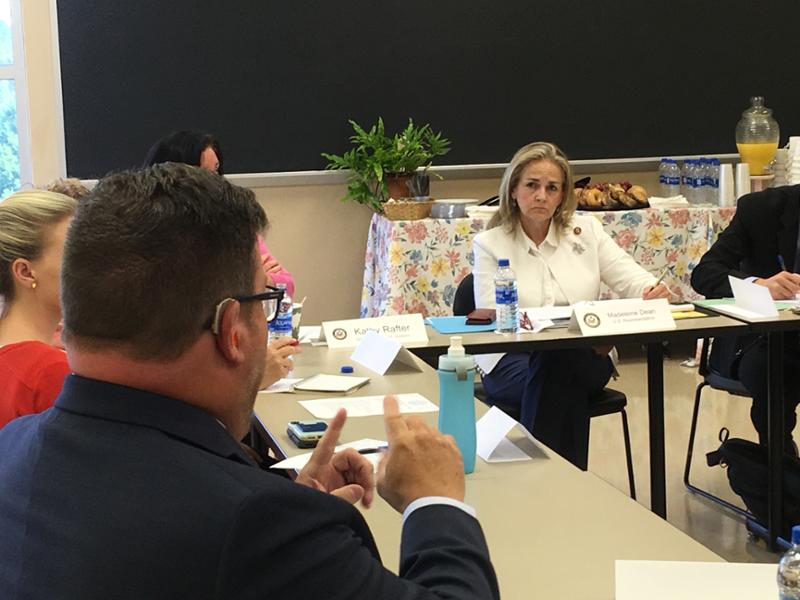 GLENSIDE, PA – On Monday, July 29, Rep. Madeleine Dean hosted a group of leaders for a discussion on disability and employment – the second in her office's Diversity and Inclusion roundtable series. Rep. Dean serves on the House Financial Services Committee's newly-created Subcommittee on Diversity and Inclusion; the roundtable series provides a forum for local leaders to contribute ideas and legislative proposals that will inform Rep. Dean's work in Washington.
Yesterday's discussion, held at Temple University's Ambler campus, included a range of disability rights researchers and advocates. The discussion focused on several key areas, including the underfunding of Pennsylvania's Office of Vocational Rehabilitation Services and the consequences for disabled individuals. Participants also examined the drop-off in services that occurs when students graduate high school – and the challenges that this gap creates for young people and families. Finally, the group discussed the crisis of underemployment and unemployment among disabled people – and how businesses, nonprofits, and government can address the issue.
"Individuals with disabilities deserve the same opportunities as everyone else," said Rep. Dean. "Right now, however, gaps in policy and funding can make it difficult for people with disabilities to seize those opportunities. By addressing these policy challenges, we can create win-win outcomes – in which individuals are more empowered to live the lives they choose, and in which businesses and society can take full advantage of the skills and talents of individuals with disabilities."
Attendees at the roundtable included:
Stephanie Marino, Equal Opportunity Employment Commission Philadelphia Office, ADR Coordinator
Celia Feinstein, Temple University-Institute on Disabilities, Executive Director
Jamie Ray Leonetti, Temple University-Institute on Disabilities, Researcher, Associate Director of Policy at Temple University
Rocco Iacullo, Disability Rights Pennsylvania, Staff Attorney
Peter O'Halloran, Advocate
Kathy Rafter, Active Academy teacher
Brooke Goodspeed, GET Café owner
Marian Baldini, KenCrest, CEO
Maureen Quinn, KenCrest, Government Relations Strategist
Leslie Healy, Community Options Inc., Executive Director
Neil McDevitt, Deaf-Hearing Communication Centre, Executive Director
Margot Goodson, SAP, North America Diversity and Inclusion Lead
Rep. Madeleine Dean is a mother, grandmother, attorney, professor, former four-term member of the Pennsylvania House of Representatives, and U.S. Representative for the Fourth District of Pennsylvania.
###

CONTACT: Matt Bieber, 202-251-5643