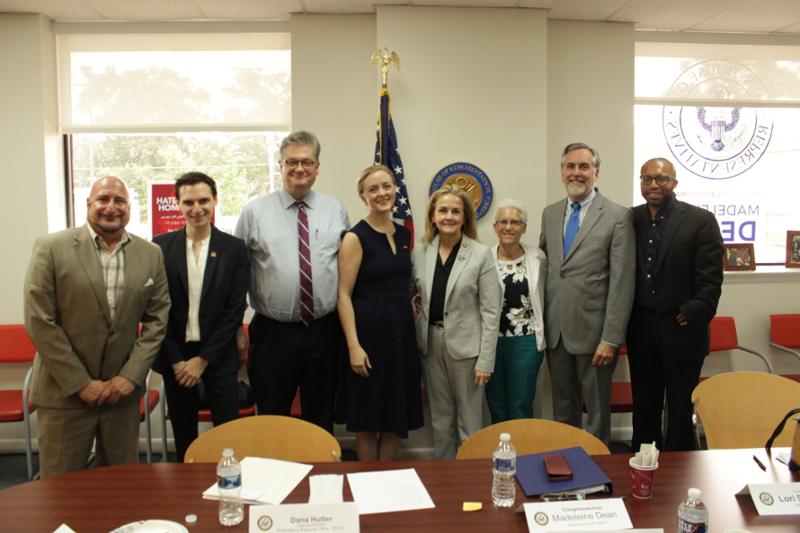 GLENSIDE, PA – On Thursday, August 15, Rep. Madeleine Dean hosted a group of leaders for a discussion on the LGBTQ+ community and employment – the third in her office's Diversity and Inclusion roundtable series. Rep. Dean serves on the House Financial Services Committee's newly-created Subcommittee on Diversity and Inclusion; the roundtable series provides a forum for local leaders to contribute ideas and legislative proposals that will inform Rep. Dean's work in Washington.
Last week's discussion focused on several topics, including discrimination in employment and education, forced arbitration agreements that allow LGBTQ+ individuals to be fired unjustly, and the Trump administration's rollback of antidiscrimination protections for LGBTQ+ communities.
"I came to listen, and I came to learn" said Rep. Dean. "But one thing I already knew is that the protections for the LGBTQ+ community passed by the House in the Equality Act cannot be stalled by the Senate any longer." The Equality Act – also known as H.R. 5 – bans discrimination on the basis of sexual orientation and/or gender identity in housing, employment, education, jury service, credit and financing, and public accommodations. It passed the House on May 17 by a vote of 236 – 173.
The participants also agreed on the need for federal, state, and local protections for LGBTQ+ individuals – as well as the need for a cultural shift away from harassment and hate and towards inclusion and belonging.
"Legislation is a step towards the bigger picture, which is a country that fully recognizes and supports the LGBTQ+ community," said Rep. Dean.
Rep. Dean also pledged to take this conversation to D.C. for her fellow Representatives on the Financial Services Committee's Diversity and Inclusion Subcommittee.


Attendees at the roundtable included:
Lori Schreiber, Abington Township Commissioner
Sterling Johnson, Director of Enforcement – Fair Housing Rights Center
Melissa Buckminster, President – Montgomery County LGBTQ Business Council
Richard Buttacavoli, Founder, Vice Chair – Montgomery County LGBTQ Business Council
Daniel Clifford, Judge of the Court of Common Pleas – Family Court Division
Jason Landau Goodman, President – Pennsylvania Youth Congress
Dana Hutter, Deputy District Director – Equal Employment Opportunity Commission, Philadelphia Office
Rep. Madeleine Dean is a mother, grandmother, attorney, professor, former four-term member of the Pennsylvania House of Representatives, and U.S. Representative for the Fourth District of Pennsylvania.
###
CONTACT: Matt Bieber, 202-251-5643