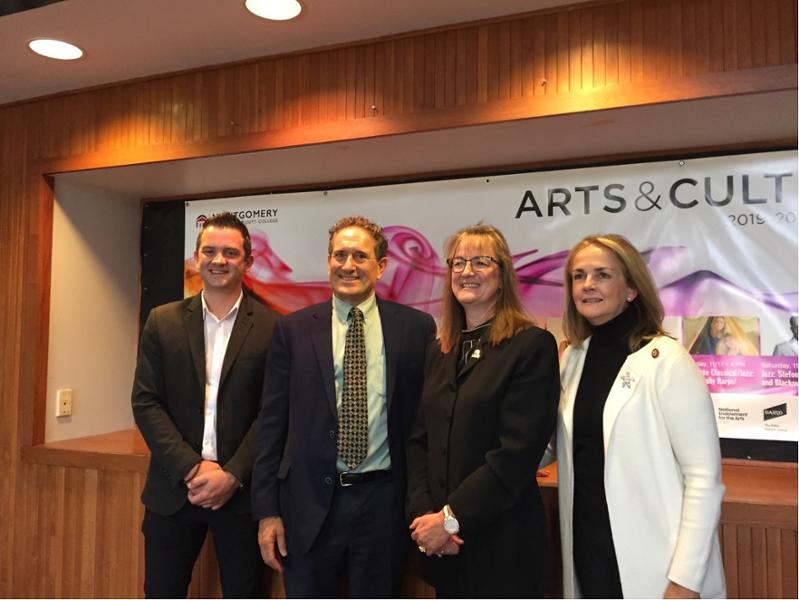 GLENSIDE, PA – On Monday, September 16, Rep. Madeleine Dean (PA-04) and Rep. Andy Levin (MI-09) hosted a student debt town hall at Montgomery County Community College in Blue Bell. Joined by interim MCCC President and Provost Vicki Bastecki-Perez and approximately 70 students, faculty, and community members, Reps. Dean and Levin discussed the scope and scale of America's student debt crisis – and how their new bill could help alleviate it.
"America's debt burden – which is disproportionately borne by poor, working class, and minority people – means that millions of our friends and neighbors can't afford to start families or small businesses, become homeowners, or save for retirement," said Rep. Dean. "And for many, the cost of college means that they can't afford to further their education, develop important skills, or pursue their career ambitions in the first place. That has to change."
In recent years, tuition has risen quickly at public and private universities, and in the wake of the Great Recession, many states reduced funding for public universities. As a result, student debt has nearly tripled since 2006. Today, nearly 45 million borrowers hold $1.6 trillion in debt, and the average borrower owes close to $33,000 and pays nearly $400 per month in debt service. Almost a million borrowers default on their debts each year.
The presentation focused on the America's College Promise Act (H.R. 4212), a bill introduced by Reps. Levin and Dean. America's College Promise would provide two years of tuition-free access to community college programs that lead to a degree or industry-recognized credential. States would have the option to enroll; those that did so would earn a federal match of $3 for every $1 invested by the state. The program would also establish a grant program to provide pathways to success at minority-serving institutions by assisting with tuition and fees.
"The net result? Two years of tuition-free and fee-free education at any community college regardless of family income, age, enrollment status, or prior college experience – and greatly reduced tuition costs at four-year minority-serving institutions like a Historically Black Colleges or Universities," said Rep. Levin. "Imagine how this would transform educational opportunity in this country – so many of our 18-year-olds wouldn't have to weigh the risks of taking on massive debt to finance their education, and they would be free to focus on making the most of their college degree."
"This would be an economic engine, driving innovation and growth," said Rep. Dean. "And in today's changing economy, we can't afford to overlook the potential of millions of our friends and neighbors."
Reps. Dean and Levin also visited Willow Grove's Eastern Center for the Arts and Technology, an occupation and technical education center operated by a consortium of area school districts. Dozens of students, faculty, and administrators joined the representatives for a lively discussion about America's College Promise, as well as a range of other bills that would make higher education more accessible.
"These students are tremendous – bright, thoughtful, and hungry to make their mark," said Rep. Levin. "As a country, we should do everything we can to support them as they reach for their goals."
Rep. Madeleine Dean is a mother, grandmother, attorney, professor, former four-term member of the Pennsylvania House of Representatives, and U.S. Representative for the Fourth District of Pennsylvania.
Rep. Andy Levin represents Michigan's Ninth District in Congress, where he serves as Vice Chair of the Education and Labor Committee. Prior to his election, he created and ran Michigan's workforce development program as well as a host of green energy initiatives.
###