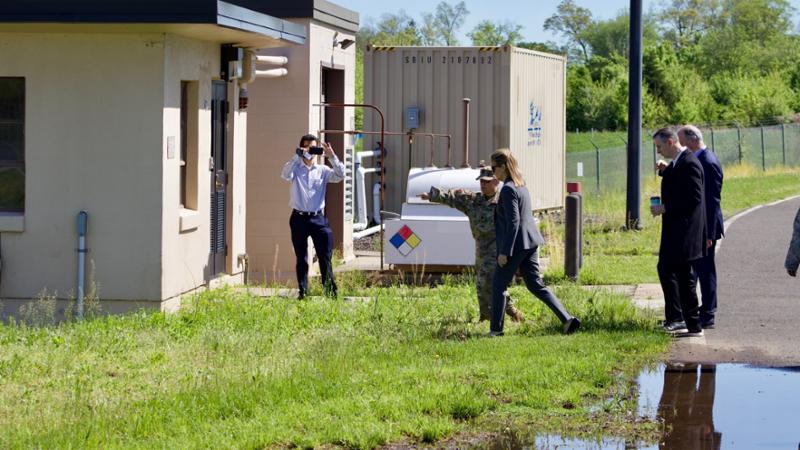 WASHINGTON – Rep. Dean introduced the bipartisan PFAS Free Foam Research and Development Act, in order to find an alternative to PFAS contaminated firefighting foam.

"Tackling our local – and national – water contamination problem is one of my highest priorities," Rep. Dean said. "Finding an alternative to PFAS contaminated firefighting foam is vital – no one should be exposed to these harmful forever chemicals."

Rep. Dean's efforts during the NDAA last year resulted in the inclusion of a provision to phase out the Department of Defense's use of Aqueous film forming foam, or AFFF, that includes harmful PFAS chemicals linked with cancer and other life threatening conditions.
"In order to find a military-grade alternative to PFAS chemicals, we need proper research and coordination," Rep. Gallagher said. "This bill helps us protect our water from harmful contaminants by finding ways to achieve a quick and safe phase out of PFAS fire-fighting foam."

"PFAS chemicals endanger our men and women in uniform, and our families that live in military communities like those around Joint Base McGuire-Dix-Lakehurst," Rep. Kim said. "I'm proud to stand with my colleagues from both sides of the aisle to introduce this bill that would make sure we quickly and safely transition away from using PFAS in our military's firefighting foams."
Rep. Kim submitted this proposal as an amendment to the NDAA - it was agreed to in committee with bipartisan support and included in the NDAA that passed the House on July 21st.

"I am proud to work with Congresswoman Dean on introducing this important piece of legislation to protect public health," Rep. Kildee said. "PFAS chemicals are linked to harmful health effects and we must do more to reduce exposure and clean up contamination in our communities. It is long past time to find alternatives to PFAS in firefighting foam that will ensure clean drinking water and prevent harmful environmental contamination."

"It is crucial, especially in Pennsylvania, that we research and develop PFAS-free firefighting foam," Rep. Houlahan said. "I'm proud to be working with this bipartisan coalition to combat this harmful chemical that is affecting Pennsylvanians across the Commonwealth."

The PFAS Free Foam Research and Development Act establishes a public private partnership between the Department of Defense, the National Institute of Standards and Technology, industry stakeholders and manufactures, research institutions, and other federal agencies.

This partnership will promote and advance the research and development of PFAS-free firefighting foam.

The bill includes the following guidelines:
The use of green and sustainable chemistry to ensure any alternative does not pose a risk to public health or the environment.
Increase the opportunities for sharing best practices within the research and development sector by using and leveraging research from existing Department of Defense programs.
Take into consideration the Department of Defense's different uses of AFFF and provide clear guidelines on their priorities in an alternative.
Hold the Department of Defense accountable in this research.
Requires them to submit a report to Congress that explains the actions they've taken in finding an alternative and disclose any alternatives they denied, and the reasons behind their denial.


Rep. Madeleine Dean is a mother, grandmother, attorney, professor, former four-term member of the Pennsylvania House of Representatives, and U.S. Representative for the Fourth District of Pennsylvania.