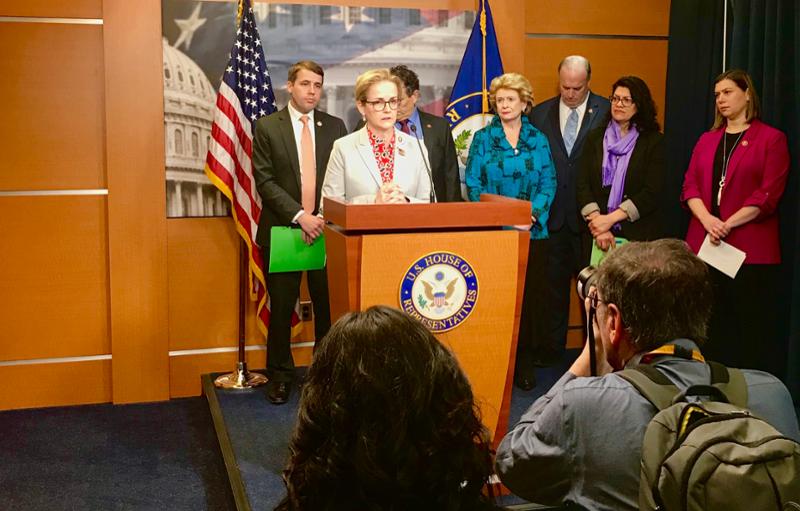 WASHINGTON – On Clean Water Day, Rep. Madeleine Dean announced a series of steps for tackling PFAS water contamination issues in the Pennsylvania Fourth District – and around the country.
In a bipartisan letter to the House Appropriations Subcommittee on Defense, Rep. Dean requested $10 million for a nationwide health study on the effects of per- and polyfluoroalkyl substances (PFAS). This study has already been authorized in the FY 2019 National Defense Authorization Act (NDAA); now the Subcommittee must decide whether to appropriate funds.
"For decades, the Department of Defense has used firefighting foam that contained PFAS substances – and these chemicals have contaminated groundwater across the country," said Rep. Dean. "A growing body of research has connected these compounds with serious health risks, including certain types of cancer and impaired immune system performance. By identifying these risks as precisely as we can, we'll finally be in a position to regulate PFAS chemicals appropriately – and keep our drinking water safe."
In 2018, the Centers for Disease Control and Prevention's (CDC) Agency for Toxic Substances and Disease Registry (ATSDR) issued an updated toxicology report for various types of PFAS. ATSDR proposed minimal risk levels (MRLs) as screening for risk assessment for PFOA and PFOS, which would result in new maximum contaminant levels (MCLs) in drinking water at levels at 7-11 parts per trillion (ppt) for PFOA and PFOS—significantly lower than the 70 ppt EPA drinking water health advisory level issued in 2016.
Rep. Dean's appropriations request letter was co-led by four Members of Congress: Brian Fitzpatrick (PA-01), Brendan Boyle (PA-02), Chris Pappas (NH-01), and Fred Upton (MI-06).
The letter was co-signed by 20 Members of Congress: Donna E. Shalala (FL-27), Ro Khanna (CA-17), Katie Hill (CA-25), Sean Patrick Maloney (NY-18), Daniel T. Kildee (MI-5), Antonio Delgado (NY-19), Xochitl Torres Small (NM-02), Steve Cohen (TN-09), Jack Bergman (MI-01), Elissa Slotkin (MI-08), Bill Huizenga (MI-02), Debbie Dingell (MI-12), Peter T. King (NY-02), Conor Lamb (PA-17), Lori Trahan (MA-03), Rick Larsen (WA-02), James P. McGovern (MA-02), Lee M. Zeldin (NY-01), Cathy McMorris Rodgers (WA-05), and Assistant Speaker Ben Ray Luján (NM-03).
Rep. Dean also recently cosponsored two pieces of legislation to address PFAS.
PFAS Detection Act
Mapping the full extent of PFAS water contamination is essential for remediation efforts. The PFAS Detection Act will provide the U.S. Geological Survey with $45 million to develop new PFAS detection technology and conduct nationwide environmental sampling.
"There are more than 3,000 PFAS chemicals, but only 1% of these substances are detectable using today's technology," said Rep. Dean. "We need to learn much more about the health and environmental impacts of PFAS chemicals – and how to address them."
Protecting Military Firefighters from PFAS Act
Military servicemembers around the country have reported serious health consequences as a result of exposure to PFAS. The Protecting Military Firefighters from PFAS Act would ensure that a blood test is conducted for servicemembers who have come in contact with PFAS substances. "This simple legislation could make a real difference," said Rep. Dean. "Our men and women in uniform look after our health and safety – and we must do the same for them."
###
Contact: Matt Bieber, 202-569-2879