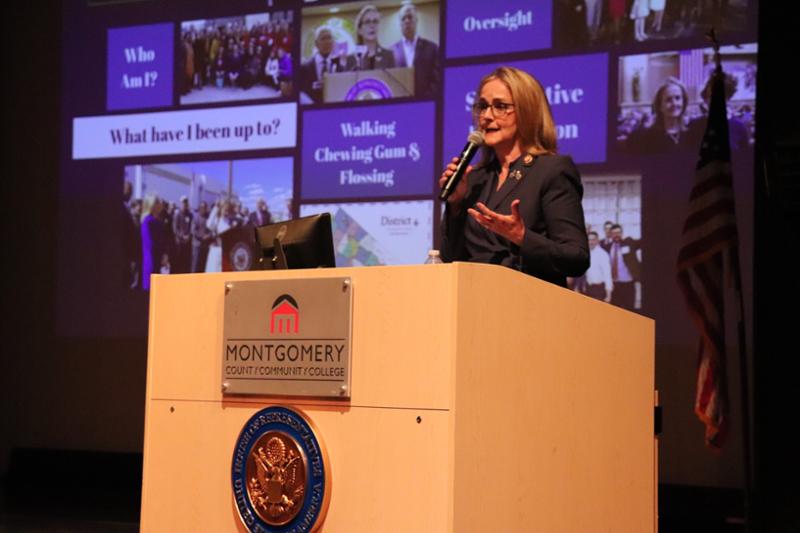 WASHINGTON – Congresswoman Madeleine Dean, along with vice chair of the House Education and Labor Committee, Congressman Andy Levin, and House Democratic colleagues re-introduced the America's College Promise Act to create new partnerships with state governments and provide two years of tuition-free access to community college programs that lead to a degree or industry-recognized credential. The proposal would also create a new grant program to provide pathways to success at minority serving institutions.
"For too long, financial barriers have prevented many Americans from attending college," Congresswoman Dean said. "As a former college professor, students often told me they worry about the enormous burden they would have to take on in order to gain skills necessary to enter the workforce. The America's College Promise Act will change that. By making community college an affordable choice, students will have access to the opportunities they deserve."
"We have to make sure that the skills and credentials necessary to be successful in today's economy are attainable for working families," Congressman Andy Levin said. "The soaring cost of higher education coupled with the student debt crisis are expanding the wealth gap in our country and exacerbating the problem of income inequality. That's why today we are introducing a bill to make sure that a free education that leads to gainful employment is accessible to every American. The America's College Promise Act will transform higher education by guaranteeing two years of free community college, in addition to bolstering important parts of our higher education system like HBCUs. I'm so proud to work with my House Democratic colleagues on this bill, and I look forward to advancing it through the House."
Specifically, this legislation:
Creates a new partnership between the federal government and states and Indian tribes to help them waive resident tuition and fees for two years of community and technical college programs for eligible students, while promoting key reforms to accelerate student success;
Provides a federal match of $3 for every $1 invested by the state;
Ensures that programs offer academic credits which are fully transferable to four-year institutions in their state, or occupational training that leads to recognized credentials;
Maintains and encourages state funding for higher education; and
Establishes a new grant program to provide pathways to success at minority serving institutions by helping them cover a significant portion of tuition and fees for the first two years of attendance for low-income students.
Reps. Susan Davis (CA-53), Seth Moulton (MA-06), Debbie Mucarsel-Powell (FL-26), and Donald Norcross (NJ-01) are the other House co-leads on this legislation.
Senator Tammy Baldwin (D-WI) today introduced the Senate version of the America's College Promise Act.
The America's College Promise Act is supported by the Alliance for Equity in Higher Education, American Association of Community Colleges, American Federation of Labor and Congress of Industrial Organizations (AFL-CIO), American Federation of Teachers, American Indian Higher Education Consortium (AIHEC), APIA Scholars, Association of Community College Trustees, Center for Law and Social Policy (CLASP), Hispanic Association of Colleges and Universities (HACU), National Association for Equal Opportunity in Higher Education (NAFEO), National Skills Coalition, Southeast Asia Resource Action Center, State Higher Education Executive Officers, Student Debt Crisis, The National Education Association, Thurgood Marshall College Fund, and UNCF (United Negro College Fund, Inc.).
Local endorsers of the America's College Promise Act include the Pennsylvania Commission for Community Colleges and Montgomery County Community College.

Rep. Madeleine Dean is a mother, grandmother, attorney, professor, former four-term member of the Pennsylvania House of Representatives, and U.S. Representative for the Fourth District of Pennsylvania.
###
CONTACT: Matt Bieber, 202-251-5643