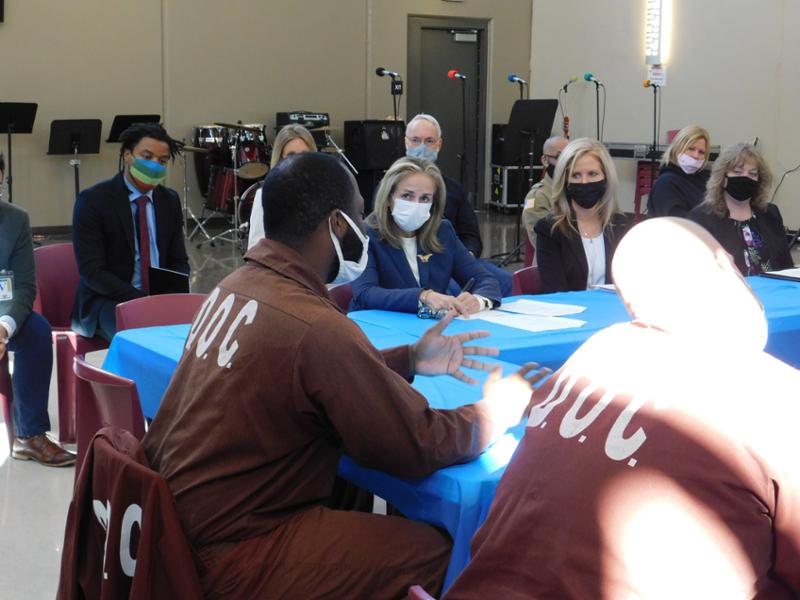 Collegeville, PA — Yesterday, Congresswoman Madeleine Dean (PA-04) visited SCI Phoenix to discuss educational services in Pennsylvania prison systems and the re-introduction of her legislation, the Promoting Reentry through Education in Prisons (PREP) Act. The PREP Act would ensure that incarcerated individuals receive the educational opportunities they need to successfully reenter their communities after completing their sentences.

"The stories we heard from the inmates at SCI Phoenix and the dedication of the educators were inspiring and a testament to the never-ending power of education," Rep. Dean said. "These programs change lives—all people deserve that chance to reform, learn, and give back. I look forward to sharing these stories to underscore the need to invest in rehabilitation reform and educational programs for inmates—like the PREP Act—so that they can re-enter society ready to contribute positively to our community. We know these programs work and benefit us all"

A 2013 study by RAND Corporation demonstrated that individuals who participated in prison education were 43% less likely to re-offend and 13% more likely to secure employment after re-entering society.

"Offering meaningful educational programming not only helps put incarcerated individuals on a path to success upon release from confinement, but also provides a constructive way for them to set and achieve goals while serving their sentences," Pennsylvania Department of Corrections Acting Secretary George Little said. "The overwhelming majority of prisoners will eventually be released and return to the community, so investing in education while they are incarcerated benefits us all."
"Villanova University understands the transformative power of education and the students that graduated from our program at SCI Phoenix are living proof of that," Katherine Maloney, Director Villanova Program at SCI Phoenix said. "Villanova has found that program alumni who return to their families and communities often flourish—obtaining jobs and using their education to give back to the community. Villanova is proud to call these students and graduates, who are an integral part of our community, Villanovans."

The visit included a roundtable with Acting Secretary George Little, Deputy Secretary for Reentry Kelly Evans, Regional Deputy Secretary Tammy Ferguson, and Superintendent Jaime Sorber, Katherine Meloney of the Villanova Program, George Chochos and Brian Walsh of Vera Institute of Justice, recipients of DOC educational programming, and other prison and education officials.
Rep. Madeleine Dean is a mother, grandmother, attorney, professor, former four-term member of the Pennsylvania House of Representatives, and U.S. Representative for the Fourth District of Pennsylvania.
###