POTTSTOWN, PA – The American Keg Company is the only keg manufacturer in the United States. In 2021, American Keg faced the threat of closure when they could no longer secure enough American steel for their production. Congresswoman Madeleine Dean (PA-04) brought this concern to U.S. Secretary of Commerce Gina Raimondo who connected American Keg with a supplier, helping them to stay open and continue manufacturing in Pottstown.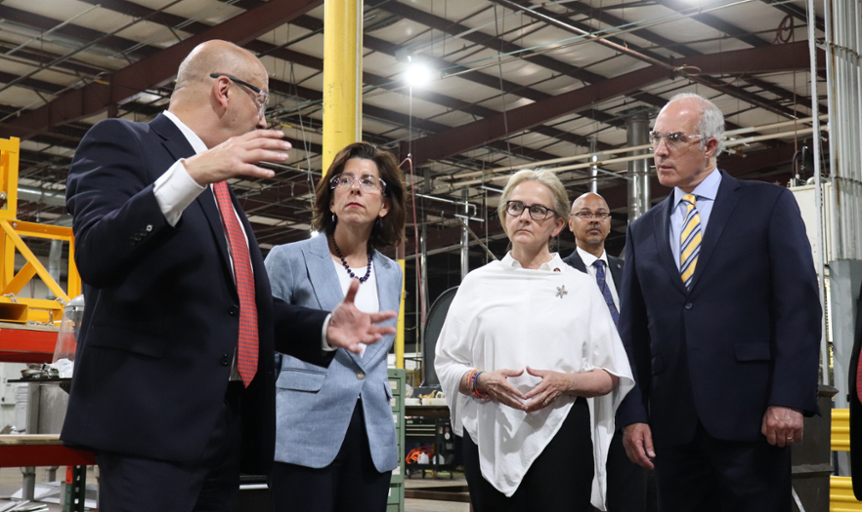 To get a closer look into American Keg, Congresswoman Dean, Secretary Raimondo, and Senator Casey toured the facility with American Keg CEO Paul Czachor, owner Scott Bentley, and local leaders. The tour was followed by a roundtable with American Keg staff, including Jonathan Adcock and Joe Yannelli, to discuss American Keg's commitment to providing fulfilling careers for Second Chance employees and the possibilities of American manufacturing.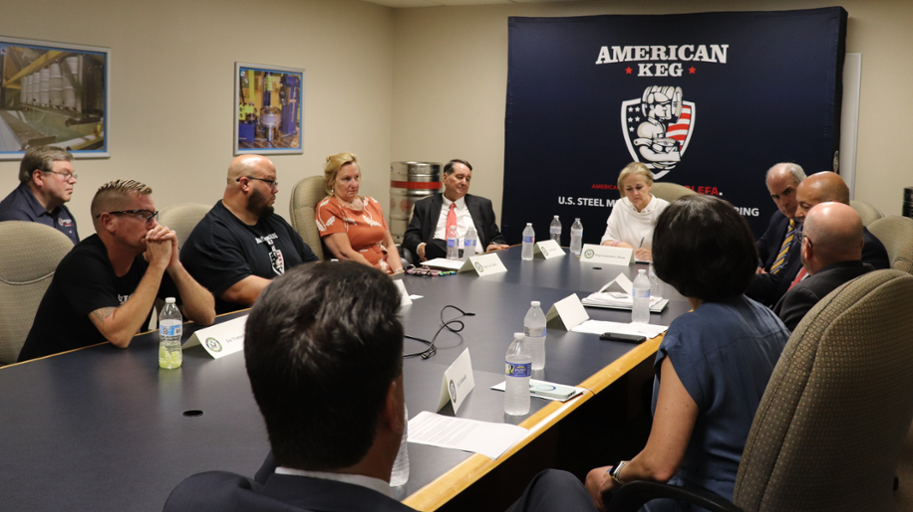 "The American Keg Company is a beacon in our community. As the only keg manufacturer in the United States and a local business that is committed to workforce reentry, they are a powerful example of American manufacturing," Rep. Dean said. "I'm grateful to American Keg for opening their facility to us so that we could learn from their success and to Secretary Raimondo for her advocacy that saved this unique business and the livelihoods of people in Pottstown."

"I was honored to join Congresswoman Dean today at a company that's helping make more goods in America. The Biden administration has made revitalizing American manufacturing a top priority and Congresswoman Dean has been a steadfast partner in the fight to protect American manufacturing, secure critical supply chains, and create good-paying jobs at home. I'm proud to have worked with Congresswoman Dean to help American Keg secure the steel they needed to keep their doors open. I'm also grateful for the chance to visit a company working hard to keep manufacturing jobs in Pennsylvania," Secretary Raimondo said.

"In Pennsylvania, we do two things well: steel and beer. The Commonwealth is also at the forefront of criminal justice reform to reduce barriers for workforce reentry by passing critical laws like the Clean Slate Act. Manufacturers like American Keg showcase the best of Pennsylvania by investing in local workers and using stainless steel made here in America. Rep. Dean and I will continue to advocate for Pennsylvania workers and the companies that embody our 'made in America' values," Senator Casey said.

"I was grateful for the visit from Secretary Raimondo, Congresswomen Dean, and Senator Casey as they were instrumental in helping American Keg with supply chain and tariff issues to allow us to continue and grow," Paul Czachor, CEO of American Keg, said. We pride ourselves on using American-made steel and providing good jobs in our community, and we look forward to working together to keep manufacturing thriving in the United States."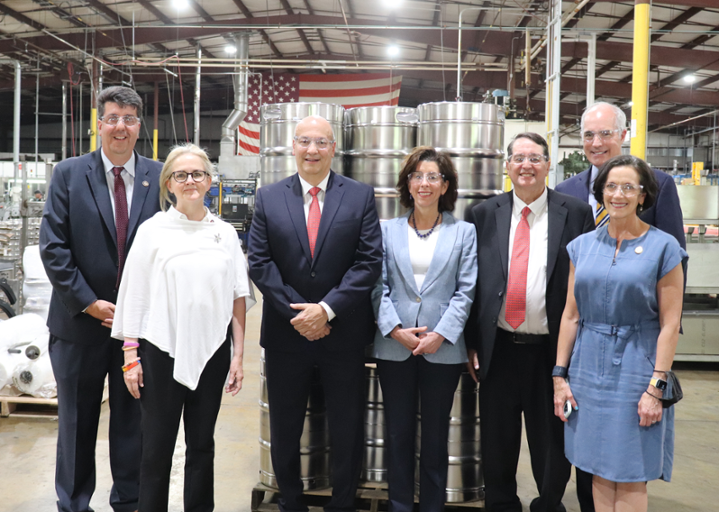 Local leaders included Commissioner Val Arkoosh; State Representative Joe Ciresi; Peggy Lee-Clark, Executive Director of Pottstown Area Economic Development (PAID), Inc and board member of the TriCounty Chamber of Commerce; and Jeffrey Abramowitz, Executive Director of Justice Partnerships, JEVS Human Services and Chairman of the Housing, Education, Employment, and Basic Needs Sub-committee, Pennsylvania Reentry Council.
Rep. Madeleine Dean is a mother, grandmother, attorney, professor, former four-term member of the Pennsylvania House of Representatives, and U.S. Representative for the Fourth District of Pennsylvania.
###