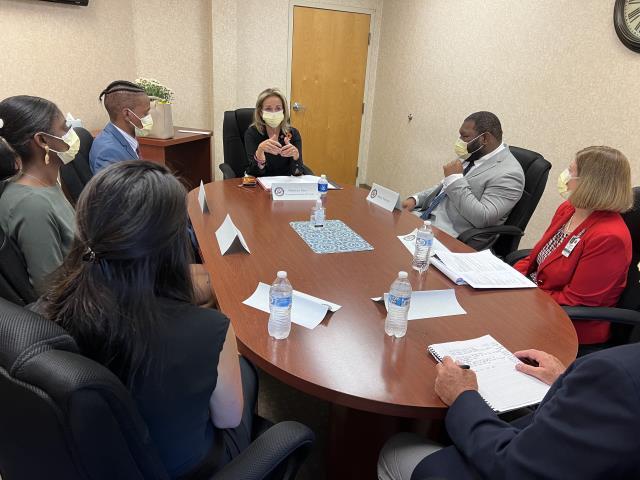 Norristown, PA - On Wednesday, Rep. Dean joined the Pennsylvania Health Care Association, Temporary Nurse Aides (TNA), and Genesis Healthcare at their affiliated Norriton Square, Norristown location to discuss healthcare staffing challenges and her legislation which would help bolster America's healthcare workforce in nursing homes.

In May of this year, Rep. Dean introduced the bipartisan bill, Building America's Health Care Workforce Act with Congressman Guthrie (KY-02), McKinley, P.E. (WV-01).

Due to the COVID-19 Pandemic and healthcare workforce crisis, The Centers for Medicare & Medicaid Services (CMS) waived a four-month deadline for TNAs to become Certified Nurse Aides in order to continue to work in long term care facilities—provided they completed approved training and showed competency in providing nursing and nursing-related services. This April, however, CMS announced that it would be rolling back this much-needed flexibility. The Building America's Health Care Workforce Act would extend this flexibility for another 24 months.

"Long term care facilities and their staff have had to protect our nation's population who are most vulnerable to COVID-19, and they have done a heroic job," Rep. Dean said. "And though we believe the global health crisis is becoming more manageable, we are still in desperate need for nursing home staff. Extending the waiver, as my bill would do, will help ensure nursing homes have the number of staff they need to provide safe care for their residents and patients. This not only helps solve a staffing issue, but also builds a career path for employees."

Since the beginning of the pandemic our country has lost more than 240,000 nursing home jobs.

"As the country comes out of the pandemic, one of the biggest challenges in healthcare is staffing. The Temporary Nurse Aide program has been a lifeline to Genesis and so many other skilled nursing facilities throughout the country," Debbie Rowe, Genesis Vice President, Nursing Workforce Developmen said. "It has enabled buildings to improve care and patients and residents to have the same caretakers day after day. Genesis is so grateful to Congresswoman Dean, and to Congressmen Guthrie and McKinley, for their leadership on this bill to extend this commonsense solution as the country deals with these staffing challenges. This bill also provides more opportunity for career growth for people who are interested in doing more to help people during the pandemic."

In Pennsylvania, TNAs are also facing an October 6th deadline to either complete their nurse aid exam or end working—despite reports of difficulties scheduling exam appointments.

"Seniors and adults with disabilities are urgently seeking to access critical care in nursing homes where there is decreasing availability due to staffing challenges," Tim Ward, Director of Advocacy and Government Relations for the Pennsylvania Health Care Association said. "TNAs have been helping to support the long-term care workforce and the residents they care for throughout the COVID-19 pandemic. This position — proven valuable — has also created a new opportunity for interested caregivers to begin their professional journey in long-term care. Rather than create more obstacles that interfere with building a sustainable workforce, providers need solutions that will enhance their efforts and Congresswoman Dean is advocating for one in the Building America's Health Care Workforce Act. This Act will prevent nursing home providers from telling nurses they can no longer provide care for residents in their facility. It will behoove the federal and state governments to see the value in this Act and more solutions like it."

The panel also heard testimonials from CNAs who have gone through the TNA process, as well as staff currently working as TNAs.

The bill is currently being reviewed by the House Energy and Commerce and Ways and Means Committees.

Roundtable Participants included:
Ashleigh Jarrett, Norriton Square CNA; Damani Mann, Norriton Square TNA; Johnny Patterson, Senior Director Government Relations, Genesis; Christina Quinn, Administrator, Norriton Square; Debbie Rowe, Vice President, Nursing Workforce Development, Genesis; Craig Harris, Pennsylvania Market President at Genesis; Tim Ward, Director of Advocacy & Government Relations, Pennsylvania Health Care Association; Jordan Laslett, and State Representative Matt Bradford's Office.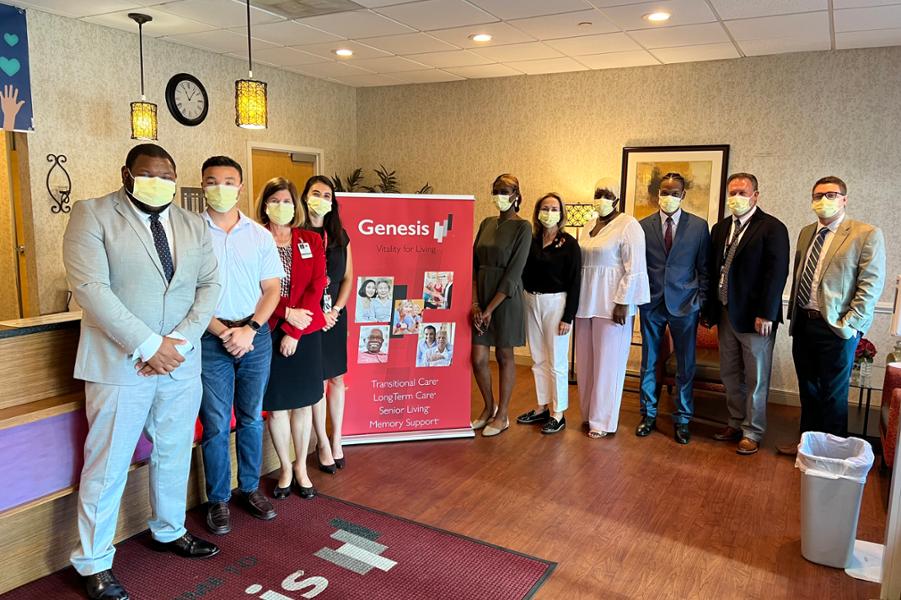 Rep. Madeleine Dean is a mother, grandmother, attorney, professor, former four-term member of the Pennsylvania House of Representatives, and U.S. Representative for the Fourth District of Pennsylvania.
###