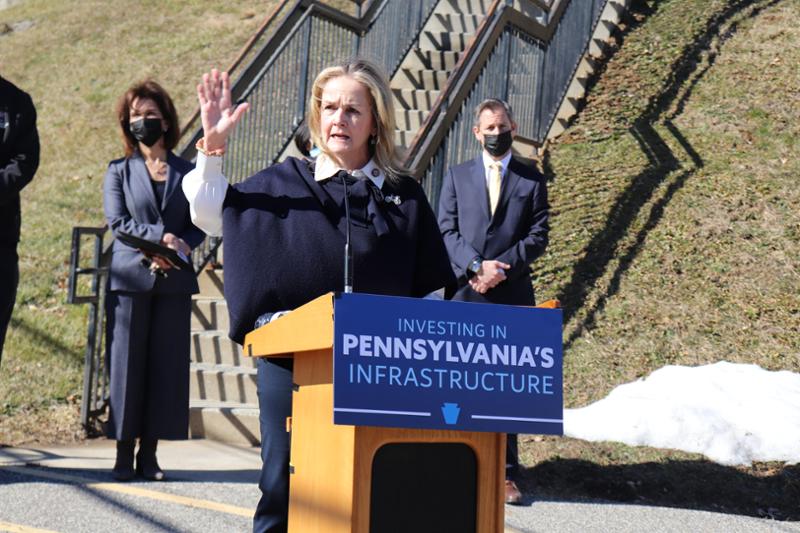 Jenkintown, PA — Today, Congresswoman Madeleine Dean (PA-04) held a press event with PennDOT Secretary Yassmin Gramian, SEPTA, Montgomery County, and other local elected officials to highlight the role of the Infrastructure Investment and Jobs Act in funding infrastructure in Pennsylvania and our region. The event occurred at Noble SEPTA Train Station in Jenkintown, PA and included Commissioner Val Arkoosh, Commissioner Ken Lawrence, State Senator Art Haywood, State Representative Ben Sanchez, and Scott France from the Montgomery County Planning Commission.
Pennsylvania was recently identified as having the second highest number of structurally deficient bridges in the nation. Speakers assembled at the base of Noble Bridge, along PA Route 611, and many pointed to the fact that the bridge has been slated for reconstruction for several years. Officials expressed optimism that, with the funding available through the Bipartisan Infrastructure Law, construction could at last begin.
"Montgomery and Berks counties are ready to take advantage of the infrastructure investments Congress passed last year — from our roads, bridges, and highways to Noble station and beyond," Rep. Dean said. "These once-in-a-generation dollars will transform our communities and equip our Commonwealth for the 21st century. I'm grateful for the commitment from PennDOT, SEPTA, and local officials to see this potential realized."

"We are more than ready to put this new bridge funding to good use by working with our planning partners across the state," PennDOT Secretary Yassmin Gramian said. "We have no shortage of needs, and we have many meaningful projects that will modernize our infrastructure while creating sustainable, good-paying jobs that will be transformative for our transportation system and our local economies."
"The Bipartisan Infrastructure Law is an unprecedented opportunity to make direct investments in our communities to fund critical projects at the municipal and county levels," Dr. Valerie A. Arkoosh, Chair of the Montgomery County Board of Commissioners said. "With this new infrastructure funding, Montgomery County stands to make even more substantial improvements to our County owned roads, bridges, and other critical infrastructure."

"Station accessibility is a very important part of SEPTA's capital program, and it will be one of our leading priorities in deploying our Infrastructure Investment and Jobs Act funding," Kenneth E. Lawrence, Jr., Vice Chair of SEPTA's Board of Directors said. "The Bipartisan Infrastructure Law will provide important increases in federal funding for transit that will help SEPTA address some of our most pressing infrastructure needs."

"To improve infrastructure in Pennsylvania, we must provide better transit access, broadband access, and diversity and inclusion in construction." Senator Art Haywood said. I look forward to working with Congresswoman Dean, Secretary Gramian, and statewide leaders to ensure our neighbors get the support they need to reduce the backlog of infrastructure needs across the Commonwealth."

"Thank you to Congresswoman Dean, PennDOT Secretary Transportation Gramian and everyone who joined us today to highlight the desperate need for massive investment in Pennsylvania's infrastructure.," State Representative Ben Sanchez said. "Thanks to the Infrastructure Investment and Jobs Act we finally hope to make that investment a reality and we could begin right here in Abington with the Noble Bridge. I look forward to working with our federal, state, county and local partners to make that happen."
A livestream of the event can be viewed here.
Rep. Madeleine Dean is a mother, grandmother, attorney, professor, former four-term member of the Pennsylvania House of Representatives, and U.S. Representative for the Fourth District of Pennsylvania.
###