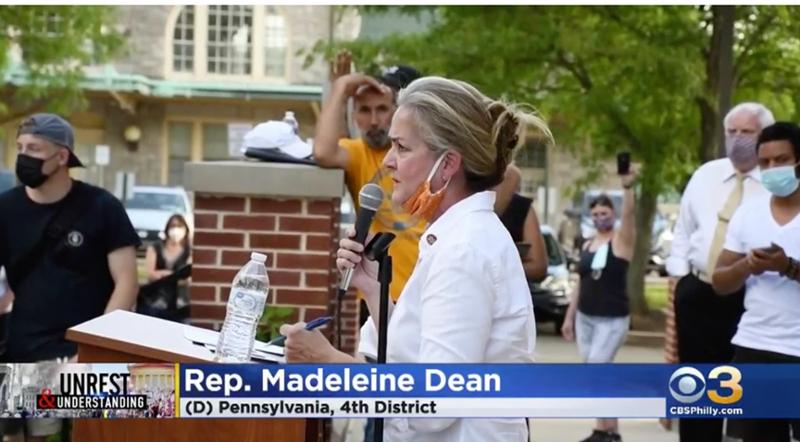 WASHINGTON D.C. — Representative Madeleine Dean is fighting alongside the Black Lives Matter movement and advocating for racial equality -- in Abington, Norristown, Lower Merion, and Pottstown.

"I have been speaking with patriotic protesters across the district and the demand is clear: the time is now for true equality and justice for Black Americans," Rep. Dean said. "We are moving forward on legislation to hold our police accountable and dismantle white supremacy in this country."

Rep. Dean has taken substantive steps toward enacting meaningful reform and immediately signed onto H. Res. 988, introduced by Reps. Ayanna Pressley and Ilhan Omar, to condemn militarized policing practices. H. Res. 988 will:
Condemn brutality, racial profiling, and the excessive use of force by law enforcement.
Call for an end to militarized policing practices.
Push to hold police officers and departments accountable for their actions.
Express the need to reform policing policies on all levels of government.
Rep. Dean also joined a series of other actions to address civil rights and police brutality, including legislation led by Rep. Hakeem Jeffries, H.R. 4408, the Eric Garner Effective Use of Force Prevention Act. The bill prohibits the use of chokeholds by making the "the application of any pressure to the throat or windpipe which may prevent or hinder breathing or reduce intake of air" by law enforcement illegal under 18 U.S.C. § 242, "Deprivation of Rights Under Color of Law."

And today, Congressional Democrats revealed a comprehensive police reform bill, Justice in Policing Act of 2020. Rep. Dean is an original co-sponsor of this transformative legislation introduced by Congressional Black Caucus Chair Karen Bass, Senators Cory Booker and Kamala Harris, and House Judiciary Committee Chair Jerrold Nadler.

The Justice in Policing Act of 2020:
Holds police accountable in our courts
Improves transparency into policing by collecting better and more accurate data of police misconduct
Improves police training and practices
Makes lynching a federal crime
There is still more work to be done -- and Rep. Dean will continue to advocate for more legislation to address racial inequalities and injustice.


Rep. Madeleine Dean is a mother, grandmother, attorney, professor, former four-term member of the Pennsylvania House of Representatives, and U.S. Representative for the Fourth District of Pennsylvania.