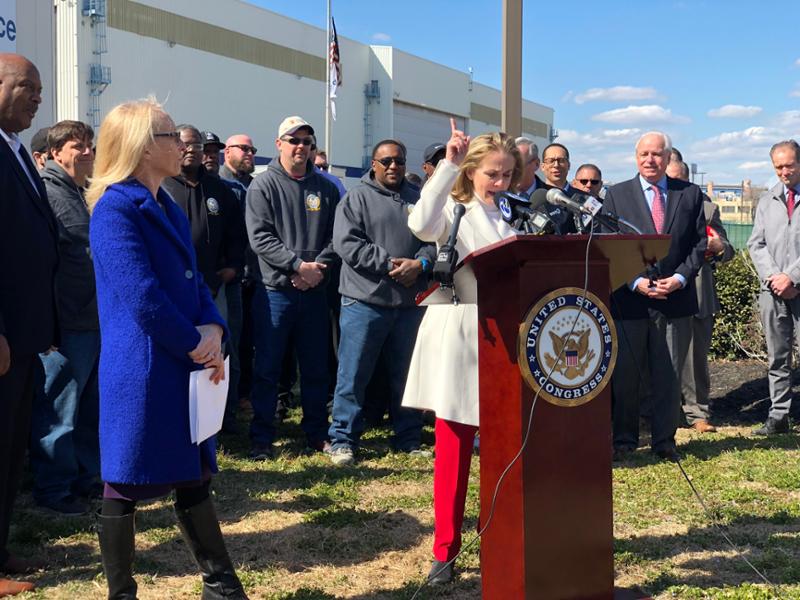 WASHINGTON, D.C. – Today, Rep. Dean voted to pass the historic Families and Workers-First legislation, which will now go to the President's desk for his signature.
"The Coronavirus pandemic is an extraordinary reminder of our common humanity and our interconnectedness, and my district has been particularly hard hit — with hundreds infected and 3 deaths," Rep. Dean said. "Today, I rose in support of the CARES Act because it will provide unprecedented support and relief to workers, families, children, business owners, and most especially healthcare and essential workers — and all of Montgomery and Berks counties."
Here are just a few of the numerous initiatives in this historic piece of legislation that will benefit the residents of Pennsylvania.
A $150 Billion State and Local Coronavirus Relief Fund: Creates a $150 billion State and Local Coronavirus Relief Fund to provide states and localities additional resources to cope with the coronavirus pandemic. It is estimated that our state of Pennsylvania will receive approximately $496 billion in desperately needed funds to benefit our state's residents.


$260 Billion in Dramatically Expanded Unemployment Benefits: Includes numerous provisions to improve unemployment benefits including providing an additional $600 per week for the next four weeks, providing an additional 13 weeks of federally funded benefits, and expanding eligibility to include workers in the gig economy and self-employed workers.


Immediate Direct Cash Payments to Lower and Middle-Income Americans: Provides for immediate, direct cash payments to lower-and middle-income Americans of $1,200 for each adult and $500 for each child, beginning to phase out at an annual income of $75,000 for an individual and $150,000 for a household. These payments will provide individuals with the cash they need right now to survive with much of the economy currently shut down.


More Than $375 Billion in Small Business Relief: Provides more than $375 billion in small business relief, including $349 billion for forgivable loans to small businesses to pay their employees and keep them on the payroll; $17 billion for debt relief for current and new SBA borrowers; and $10 billion in immediate disaster grants.


Approximately $200 Billion for Our Hospitals, Health Care Workers, and Health Research: Provides an investment of about $200 billion in our hospitals, health systems, and health research, including expanding funding for the personal protective equipment desperately needed by our health care workers, including ventilators, n95 masks, gowns, gloves, etc.


More Than $100 Billion in Additional Emergency Appropriations, Including the Following:


Transit Agencies

HUD Emergency Solution Grant

Child Care and Development Block Grant

Low-Income Home Energy Assistance Program (LIHEAP)

Byrne-Justice Assistance Grant Program

CDC Coronavirus State, Local and Tribal Grants Minimum Awards
Although the bill is not fully comprehensive in addressing this crisis, Rep. Dean is eager to continue the fight against COVID-19 with additional legislation, like her legislation to relieve student loan borrowers.


Rep. Madeleine Dean is a mother, grandmother, attorney, professor, former four-term member of the Pennsylvania House of Representatives, and U.S. Representative for the Fourth District of Pennsylvania.
###