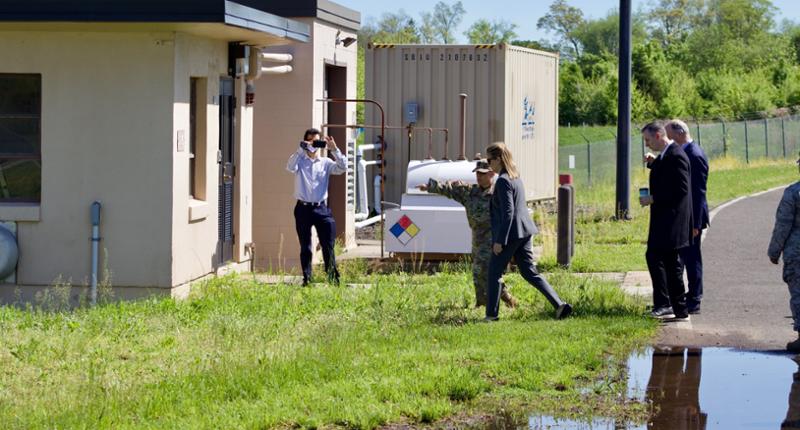 WASHINGTON – Today, the House of Representatives passed the National Defense Authorization Act (NDAA) by a vote of 220-197. The legislation included two amendments sponsored by Rep. Madeleine Dean that address water contamination caused by per- and polyfluoroalkyl substances (PFAS).
PFAS chemicals are linked to a range of health consequences, including certain types of cancers and impaired immune system performance. The chemicals have long been used in a range of consumer products, and the military continues to use aqueous film-forming foam (AFFF) in firefighting training exercises.
Rep. Dean's first amendment provides an additional $5 million to the Centers for Disease Control and Prevention's (CDC) Agency for Toxic Substances and Disease Registry (ATSDR) to conduct the nation's first PFAS health study, authorizing a total of $15 million for this critical research.
"We know that PFAS chemicals are linked to devastating health consequences, and are present in 99% of Americans, but many questions remain unanswered," said Rep. Dean. "This study will help get the answers our constituents deserve and the solutions we need."
Rep. Dean's second amendment phases out the Department of Defense's (DoD) use of AFFF by 2025—reducing PFAS contamination and protecting our communities.
The amendment also substantially limits DoD's ability to use waivers – from 6 years to 1 year. Currently, DoD can use waivers that allow the use of AFFF firefighting foam up to 2035 – almost a decade longer than Rep. Dean's phase-out provision would allow.
"For too long, federal agencies have passed the buck when it comes to our PFAS problem – leaving communities across the country unprotected," said Rep. Dean. "Today, we have passed legislation to tighten federal PFAS regulation substantially, and I look forward to continuing our efforts."
Rep. Dean is a founding member of the bipartisan Congressional PFAS Task Force. Today's amendments are the latest in a series of efforts by Rep. Dean to combat the PFAS contamination crisis. She is also the author of H.R. 2600, the Toxic PFAS Control Act, to list and regulate PFAS under the Toxic Substances Control Act (TSCA). Rep. Dean's legislation phases out PFAS by banning the manufacturing and processing of these chemicals, while also requiring the Environmental Protection Agency (EPA) to regulate their disposal.
Rep. Dean's amendments were supported by the following organizations: Alliance of Nurses for Healthy Environments * Center for Biological Diversity * Clean Water Action * Earthjustice * Endangered Species Coalition * Environmental Health Strategy Center * Environmental Working Group * GreenLatinos * League of Conservation Voters * Natural Resources Defense Council * Safer Chemicals Healthy Families * Sierra Club * Southern Environmental Law Center * Union of Concerned Scientists * Environment America * We ACT for Environmental Justice.
Rep. Madeleine Dean is a mother, grandmother, attorney, professor, former four-term member of the Pennsylvania House of Representatives, and U.S. Representative for the Fourth District of Pennsylvania.
###