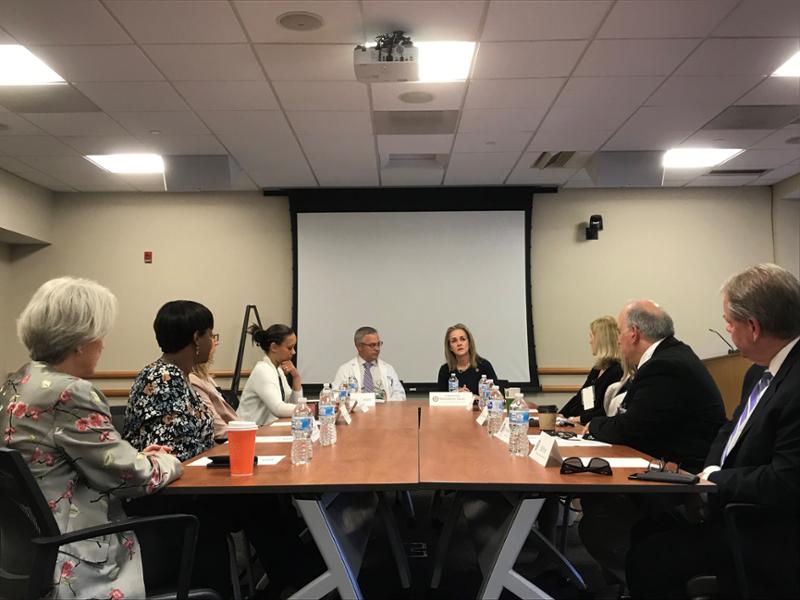 GLENSIDE, PA – On Friday, June 14, Madeleine Dean hosted a roundtable discussion on how the Affordable Care Act has changed the health care landscape – and how patients and practitioners could be affected if it is overturned.
"Every one of today's participants underscored a basic fact: the ACA has saved lives by ensuring that millions more people have health care," said Rep. Dean. "Yet today's conversation also reminds us of the important work that remains – protecting and strengthening the ACA so that everyone can afford the care they need. I am so thankful to these experts for sharing their insights on how better policymaking can help us build a smarter, more efficient health care system – one that serves more people, uses resources more effectively, and provides more support to prevention, mental health and substance abuse treatment, and other key areas."
In Pennsylvania, the ACA and Medicaid expansion have helped insure nearly 1 million Pennsylvanians – and the Urban Institute estimates that if the ACA were repealed, 858,000 Pennsylvanians would lose coverage. On May 16, 2019, Rep. Dean voted with 234 of her colleagues to pass H.R. 987 – the Strengthening Health Care and Lowering Prescription Drug Costs Act - a bipartisan package of seven bills focused on eliminating barriers to healthcare. H.R. 987 strengthens access to affordable, quality health care by protecting patients with pre-existing conditions, supporting state-based marketplaces, and funding outreach and enrollment efforts. H.R. 987 also aims to lower the cost of prescription drugs by bringing generic drugs to market more quickly.

###

CONTACT:
Matt Bieber: matt.bieber@mail.house.gov, 202-251-5643