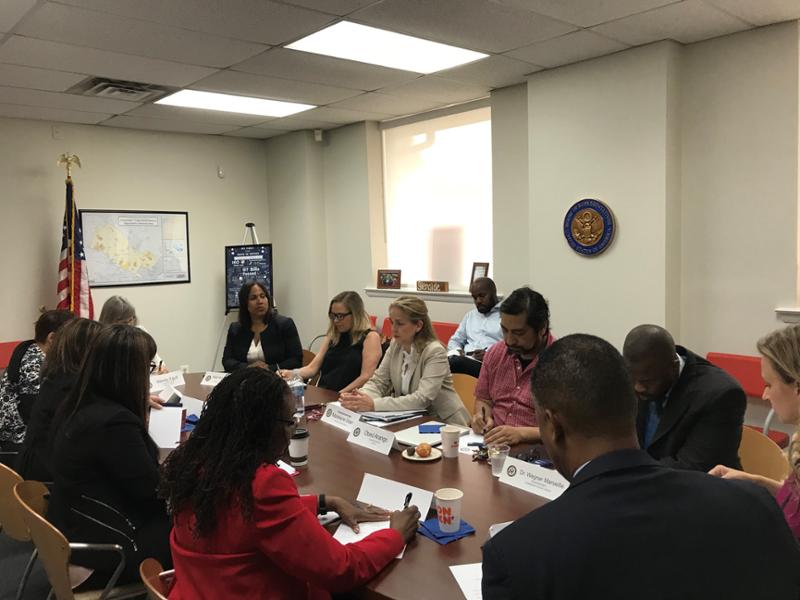 GLENSIDE, PA – On Monday, June 17, Rep. Madeleine Dean hosted a group of leaders for a discussion on race and employment – the first in her office's Diversity and Inclusion roundtable series. Business leaders, educators, nonprofit executives, and civil servants from across the Fourth Congressional District shared insights about broadening diversity and inclusion in hiring, retention, and leadership development across industries.
"I am so thankful to this group. While we all come from different backgrounds, we converged on several key views," said Rep. Dean. "First is the essential role of education. If we hope to close the gap between our ideals and our reality when it comes to diversity, we need to do far more to support children from the earliest age – ensuring that all of our kids are taught by people who see and value their incredible potential."
"We also need to do much more to expose young people in every zip code to a wide range of mentorship, sponsorship, apprenticeship, and internship opportunities," said Rep. Dean. "Telling kids that they have potential isn't enough; we need to help them see the way forward by providing genuine pathways into higher education and professional opportunities – business, nonprofits, STEM fields, and more."
The conversation also focused on the need to support leadership training and skill-building programs at every level of organizational hierarchies – to ensure that diversity finds its way into C-suites and boardrooms.
"We know that talent doesn't discriminate by skin color, gender, sexual orientation, or any other category," said Rep. Dean. "It is up to us to ensure that every person's talents are recognized, and that everyone has an equal opportunity to contribute to the life of our communities and our country."
Rep. Dean also pledged to take this important conversation back to her colleagues on the Financial Services Committee's Diversity and Inclusion Subcommittee. "The participants in today's conversation offered deep insights borne of long experience – and those insights will help us shape better policy in Washington."
Attendees at the roundtable included:
Kym Ramsey – CEO and Founder of The Willow School
Obed Arango – Executive Director of the Centro de Cultura, Arte, Trabajo y Educacion (CCATE)
Ken Lawrence – Montgomery County Commissioner
Wendy Egolf – Program Director of Pottstown Works
Rev. Bonnie Camarda – Divisional Director of Partnerships, Salvation Army
Dr. Wagner Marseille – Superintendent of Cheltenham School District
Stephanie Marino – ADR Coordinator of the Philadelphia District EEOC
Anita Conner – Business owner and former board member, African American Chamber of Commerce of PA, NJ, and DE
Stephanie Kosta – Vice President of Government Affairs, Comcast
Nancy Walsh – Director of Engagement, Leadership, Community Outreach, Montgomery County Bar Association
Keir Bradford-Grey – Executive Director, Defender Association of Philadelphia
###