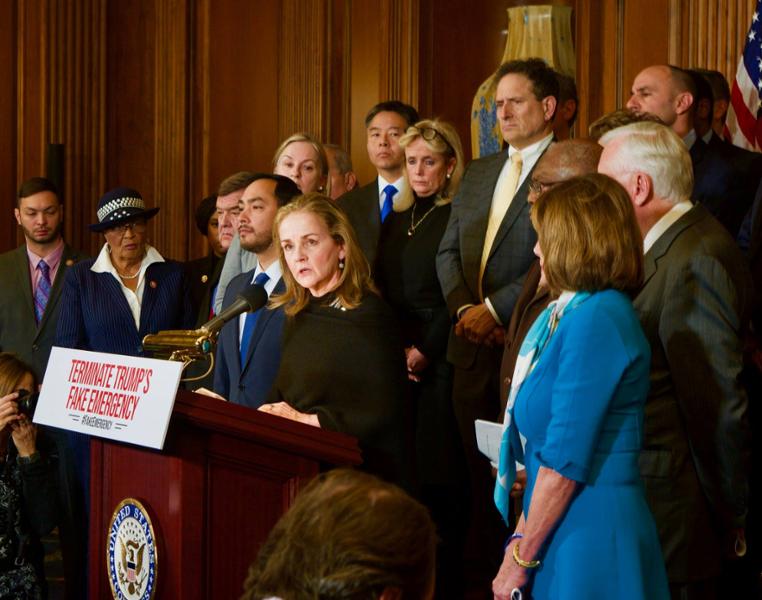 Today, Rep. Madeleine Dean denounced President Trump's emergency declaration at a press conference with House leaders. Rep. Dean's comments focused on how the President's declaration threatens military projects across Pennsylvania – and around the world.
Rep. Dean's remarks, as prepared for delivery:
"Speaker Pelosi, Leader Hoyer, Whip Clyburn, and Congressman Castro, thank you. Thank you for the chance to stand with you – and to stand up for the American people.
For the past two months, the President has held our political process hostage. He failed to persuade Congress or the American people to pay for his costly, ineffective wall – so now he plans outright theft.
And the irony? He's planning to steal from the very people who keep us safe – our military. The President aims to take billions of dollars from high-priority military construction projects, threatening our service members' training, readiness, families, and quality of life.
In my state of Pennsylvania, those projects could include $71 million for a Navy Submarine Propulsor Manufacturing Support facility in Philadelphia, $85 million for Air Force Reserve construction projects in Pittsburgh, and $8 million for a National Guard operations training facility and dining hall in Fort Indiantown Gap.
And that's just one state. Across the country and around the world, hundreds more projects are under threat – projects that have been carefully evaluated, voted on by Congress, and signed into law.
These are big projects, and they have enormous effects on service members, their communities, and our national economy. The federal government – including the President – made promises to our military, and we have no plans to break them.
For all his tough talk, the President shows little regard for the people who actually keep America safe. During his record-breaking shutdown, President Trump forced the Coast Guard, Border Patrol, and TSA to work without pay. Now, he hopes to take the money that Congress allocated to support our military – money that does not belong to him – and spend it to gratify his ego and build a wall that Mexico was supposed to pay for.
Here's the bottom line: this country operates according to the rule of law. When leaders go outside the law, they disrespect the constitutional and democratic norms that make America so special – and they do lasting damage. America can't afford that – and Congress won't allow it.
Thank you very much."
Video of the event is available here: https://www.facebook.com/NancyPelosi/videos/416595039089486/
###